Leadership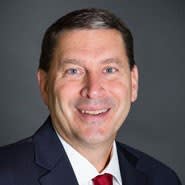 Dave Smith joined Grant Regional Health Center as President and Chief Executive Officer on September 5, 2018. Dave was employed as the Vice President of Clinic Operations at St. Margaret's Hospital in Spring Valley, Illinois. He is an accomplished leader, with a successful track record of working in rural facilities. He brings a great mix of leadership, inspiration, operational experience, and technical breadth. He is excited to help lead Grant Regional forward on their journey. Dave launched his professional hospital career as a Director of Rehabilitation in 1999 and continued to gain experience with his multitude of past leadership roles including Director of Human Resources, Director of Support Services, Director of a Multi-Specialty Physician Group and most recently Vice President of Clinic Operations
Tami Chambers joined Grant Regional Health Center as Chief Clinical Officer on October 14, 2018. Before joining Grant Regional Health Center, Tami was employed at University of Wisconsin School of Medicine and Public Health as the Pain Management Program Director. Her past positions and years of experience, give her the leadership and knowledge to direct clinical departments as well as provide insight into new programs and services. Tami achieved her Bachelor of Science in Nursing from Edgewood College and Master of Science in Nursing (MSN) and Master of Healthcare Administration from University of Phoenix.
Joel Gehling began his role as Chief Financial Officer (CFO), on July 5, 2021. Gehling brings nearly 30 years of financial experience including 25 years in the healthcare industry.
Gehling began his professional financial career in healthcare at The Finley Hospital in Dubuque and continued to gain experience at previous positions including Memorial Hospital of Lafayette County in Darlington and most recently at Grand River Medical Group in Dubuque, Iowa.
2022 Board of Directors

Dr. Neil Martin
Lancaster

Mark Hoehne
Beetown

Tom Gildersleeve
Lancaster

Sarah Kirschbaum
Cassville

Kris Wolf
Lancaster

Jessica Hermsen
Lancaster

Bob Hoffman
Lancaster

Andy Buttles
Lancaster

Rich Dhyanchand
Lancaster

Jason Kenney
Fennimore

Craig Bierman
Potosi

David Smith
GRHC President/CEO