Grant Regional is proud to offer local care for you with the highest quality services to the residents of eastern Grant County and the surrounding communities for nearly 70 years! We're so excited about the growth of our organization thanks to YOU!
With added providers and services, Grant Regional has recently obtained new equipment including our Urology Ultrasound, EKGs for our Potosi and Cassville clinics, a cautery unit used for surgery, treadmills for our Rehab services, as well as automatic doors for both our Lab and ER area. These items are possible through grant funding and donations from wonderful supporters like you!
Looking ahead to the coming year, we will continue to grow and remain a leader in area healthcare. In 2023, we'll break ground on our new Fennimore Clinic! We ask you to join us in supporting an area of need that we have identified or to simply designate your gift to be used at our discretion (unrestricted). Please consider a tax-deductible gift to GRHC today!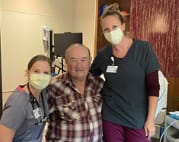 We appreciate your support now and always! Please visit our Donate Now page to make your gift.
Our areas of greatest need are currently:
AEDs (defibrillators) for both OB and Recovery

AEDs are sophisticated medical devices vital during a medical emergency when lifesaving treatment is needed, especially in the event of a sudden cardiac arrest. The Zoll monitor is a brand of AED that we have been utilizing throughout the patient care departments at Grant Regional Health Center. It can provide evaluation of the cardiac rhythm and a life-saving shock if required. The lifespan of the Zoll monitor is about 10 years and the current Zoll in OB was purchased in January 2013. MedSurg and ER have recently upgraded their Zoll monitor and both OB and Recovery are due for an upgrade.

MRI Breast Coil

The MRI Breast Coil allows MRI breast imaging, which is a limited service in this area. This will allow our Radiology team to expand on their imaging capabilities of the breast to offer a more complete, local, efficient results and services, providing the highest quality care to our patients. This will also allow patients to stay close to home for care, rather than traveling outside of our area for service, and potentially increase wait times. With the continued efforts to our breast care with 3D mammography, stereotactic biopsies and our breast surgery options, this new service will result in all breast services to stay local.
January 28th, 2023 we will be holding the Winter Spectacular Fundraising Event, with proceeds benefitting the MRI Breast Coil.

Unrestricted Funds

These funds can be used at any time at the discretion of GRHC for needed projects, programs, and services