How YOU can help during COVID-19
We are grateful for the overwhelming support that has been shown since the pandemic began! Many are asking for ways they can get involved and help. Thank you for reaching out, and most of all, thank you for caring!
Donate to support our HealthCare Heroes
Grant Regional Health Center would like to recognize our #HealthcareHeroes!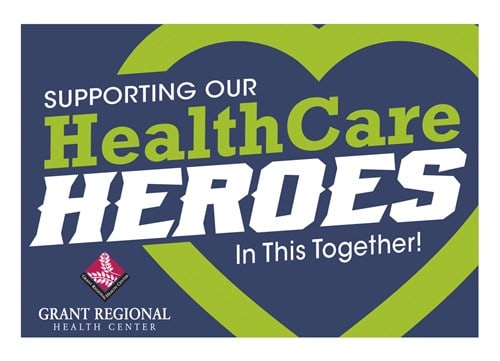 National Healthcare Week is May 10-16 and we'd like to invite you to show your appreciation for our staff and the vital role they serve in our community. Yard signs can be purchased for you to proudly display your appreciation and show your support for our team. A portion of the sales will go to the Foundation to support our response efforts to COVID-19. You can call Grantland Graphics at 608.723.4800 or email grantlandgraphics@tds.net. They will assist you with purchase and pick up of signs.
$20 (two-sided sign)
Grant Regional would like to take a proactive approach and avoid a potential shortage of personal protective equipment (PPE). We currently have adequate amounts of PPE, but feel it is important prepare for a potential surge in patients. We appreciate donations of new, unused supplies including:
Face shields.
Digital thermometers.
Eye protection such as safety glasses and goggles.
Hand sanitizer that is at least 60 percent alcohol.
Sanitizing wipes.
Masks including both N95 and surgical masks (any level).
Gloves.
Gowns.
Handmade cloth masks.
Our amazing communities have reached out to see how they can help us. Many talented individuals have started making and dropping off handmade cloth masks. View a suggested pattern.
To arrange for donations to be dropped off, please contact Brandi Riechers at 608.723.3358 or email her at foundation@grantregional.com.