How YOU Can Help During COVID-19
The best way you can help staff at Grant Regional Health Center is by following the current CDC recommendations on masking, social distancing, vaccination and more. All of these efforts help slow the spread of COVID and other respiratory illnesses, and keep us best equipped to serve our patients.
We are grateful for the overwhelming support that has been shown since the pandemic began! Many are asking for ways they can get involved and help. Thank you for reaching out, and most of all, thank you for caring.
Donate to support our HealthCare Heroes
A simple "thank you" can sometimes go a long way. Click here to submit an encouraging note, photo, or etc. to a healthcare worker to show your gratitude!
You can also mail a note of encouragement to us at: Grant Regional Health Center, Attn: Marketing, 507 S. Monroe St., Lancaster, WI 53813
Grant Regional Health Center is a participant with the DAISY Award for Extraordinary Nurses. Patients and family members can nominate a nurse that has made a positive difference in your experience at Grant Regional. DAISY Award winners are selected twice a year. Patients who have nominated a winner are invited to attend the award ceremony to show their appreciation.
Grant Regional Health Center would like to recognize our #HealthcareHeroes!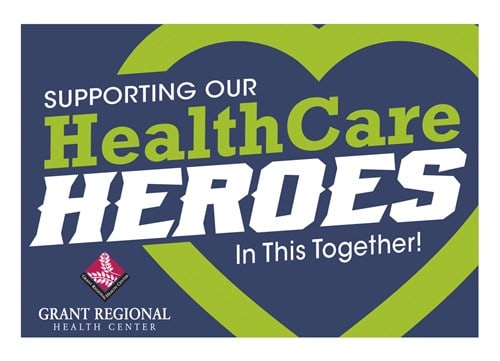 We would like to invite you to show your appreciation for our staff and the vital role they serve in our community. Yard signs can be purchased for you to proudly display your appreciation and show your support for our team. A portion of the sales will go to the Foundation to support our response efforts to COVID-19. You can call Grantland Graphics at 608.723.4800 or email grantlandgraphics@tds.net. They will assist you with purchase and pick up of signs.
$20 (two-sided sign)