Cohen earns RWHC Ambassador Award
Hospital news
|
Thursday, September 3, 2020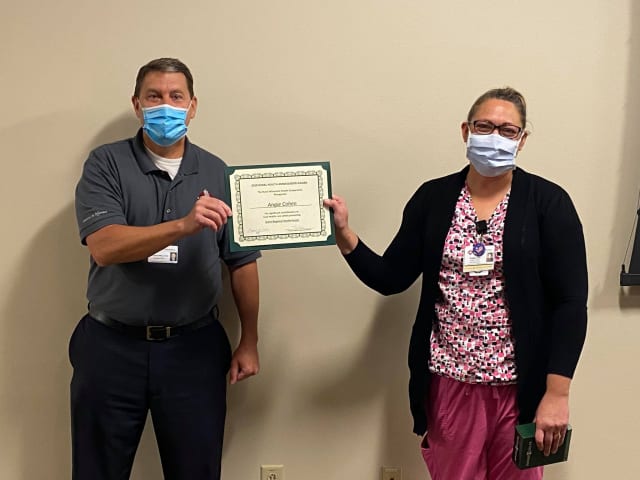 Contact: Rochelle Williams
Grant Regional is thrilled to announce that Angie Cohen has earned the prestigious RWHC Health Ambassador Award! Because of her important leadership and incredible dedication to serving our hospital and community during the onset and duration of the Covid-19 pandemic – we are proud to recognize her for the important role she played! This award was presented to Angie on Thursday, September 3.
Angie was nominated by the Administrative Team at Grant Regional Health Center. The way Angie led (& continues to lead) our hospital thru the COVID 19 preparations has been remarkable! She has been an exceptional researcher, fact finder, collaborator, advocate, and a "go to resource" by so many in our healthcare field including our local health department. She has poured thousands of hours into helping assure our staff, patients, visitors, and general public have the knowledge, supplies, and resources needed to protect themselves and others. Angie was viewed as the leader of our efforts. While she is quick to say it has been a team effort, her countless hours, knowledge, and research have been exceptional! We are so blessed to have such a highly intelligent, compassionate, committed, caring team member guiding us all through this time of uncertainty.
The Rural Wisconsin Health Cooperative (RWHC) established the Rural Health Ambassador Award to recognize employees at member hospitals who have gone above the call of duty in promoting their respective organizations, and made significant contributions to rural health care in general. Any organization that is a current member of RWHC is encouraged to select one employee to receive this annual award. The ideal candidate demonstrates a history of fostering positive communication and relations within the hospital's respective service area - and beyond.
Congratulations Angie on this well-deserved honor and award!