Grant Regional welcomes 3 new physicians!
Hospital news
|
Thursday, August 20, 2020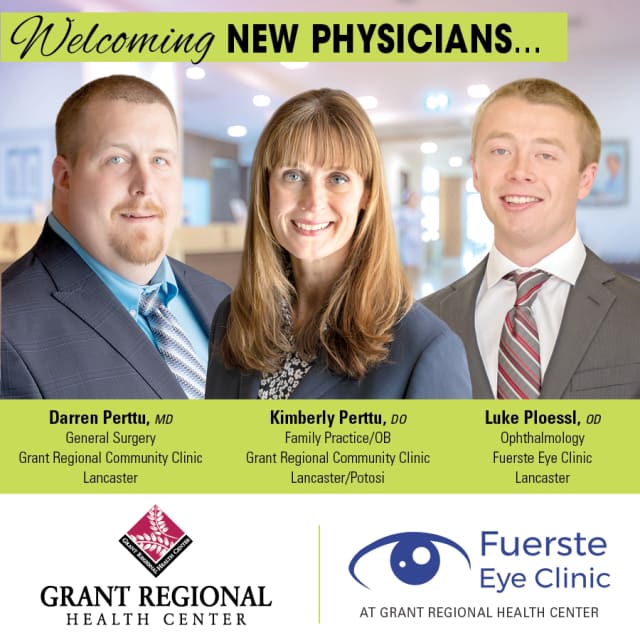 Contact: Rochelle Williams
Grant Regional Health Center is excited to welcome new providers in early September. "We are extremely pleased to announce three new providers joining our medical community this fall," explains Dave Smith, President/CEO.
Dr. Kim Perttu, Family Practice/OB
Dr. Kim Perttu is an experienced physician who specializes in family medicine and obstetrics, with a strong focus on prevention and wellness. She is looking forward to meeting new families, caring for patients of all ages and enjoys bringing little ones into the world.
"I enjoy the variety of patients I see in a family medicine setting. I place an important emphasis on the preventive aspects of medicine, and I am one to encourage the basics (nutrition, physical activity, and mental well-being). I believe in empowering my patients to achieve greater health. I enjoy getting to know my patients on a personal level and by doing so; I can really form a strong connection and build their trust. When we work together as a team to meet their healthcare needs, it's much more successful. And that really makes all the difference," she explains. "Obstetric care is a special calling. I feel privileged and overjoyed that I can help bring a new life into world. To me, there's no greater gift."
Dr. Kim Perttu earned a degree in biomedical sciences in 2005 from Lake Erie College of Osteopathic Medicine in Erie, PA, where she received her degree in osteopathic medicine in 2009. She completed her residency through the Marquette General Family Medicine Residency program in 2012. She is a member of the American Medical Association, the American Academy of Family Practitioners and the American College of Osteopathic Family Practitioners. Dr. Perttu has practiced at Oaklawn Medical Group-Tekonsha Family Medicine and most recently at Essentia Health in Hayward, Wisconsin. Her personal hobbies include running, cycling and home improvement projects.
Dr. Kim Perttu will see patients at Grant Regional's clinic locations in Lancaster on Tuesdays, Wednesdays and Fridays and Potosi on Thursdays. For more information or to schedule an appointment, call (608) 723-2131.
Dr. Luke Ploessl, Optometrist
Fuerste Eye Clinic, located inside Grant Regional Health Center in Lancaster is pleased to introduce Dr. Luke Ploessl, OD. Dr. Ploessl will be joining Dr. Tyler Risma and Fuerste Eye Clinic in September. With the addition of Dr. Ploessl, Fuerste Eye Clinic will expand clinic hours to three days per week including Tuesday – Thursday.
Dr. Ploessl is a recent graduate of Southern College of Optometry, Memphis TN. He completed his undergraduate degree at University of Northern Iowa. He is excited to join Dr. Risma in Lancaster to provide expanded optometry care for Lancaster and surrounding communities. Dr. Ploessl will provide routine eye exams, complete optical services including contact lens fitting. Dr. Risma began his practice in early February and due to Covid had to close for a short time. In addition to the eye clinic, he performs cataract surgery at Grant Regional Health Center so that patients can have the convenience of receiving all of their medical and surgical eye care needs close to home. For more information or to schedule an appointment, call Fuerste Eye Clinic at (888) 582-0769.
Dr. Darren Perttu, General Surgeon
Dr. Darren Perttu, will join Grant Regional Community Clinic in early September and bring advanced surgical care to our region. "My goal is to help people live longer, healthier lives. I work closely with my patients to provide information and recommendations so that they can make the best healthcare decisions. And ultimately, many times it does take surgery to get patients back on the road to better health. I enjoy the variety that a general surgery practice offers and the opportunity to work with patients of all ages."
Dr. Darren Perttu, is certified by the American Board of Surgery in General Surgery and his practice includes a wide range of services including laparoscopic general surgery including gallbladder removal, hernia repair, colon and rectal surgery, colonoscopies and upper endoscopy, women's health/breast surgery, skin cancer and skin lesion removal, and varicose vein treatment. He earned his Medical Degree from Michigan State University in East Lancing, MI and completed his residency at Michigan State University. Dr. Perttu most recently practiced at Essentia Health in Hayward, Wisconsin.
Outside of medicine, he enjoys spending time with his family and hobbies include being outdoors, tractors and hobby farming. "I've lived in northern Wisconsin the past 5 years and love the small-town atmosphere. I couldn't imagine leaving Wisconsin, so we're happy to find a great hospital and community to relocate to and raise our family, "he explains. "I consider myself easy to get-to-know and talk to and look forward to becoming part of the Lancaster community." For more information go to www.grantregional.com or to schedule an appointment, call (608) 723-2131.