GRHC receives grant from Lancaster Community Fund
Hospital news
|
Thursday, June 30, 2016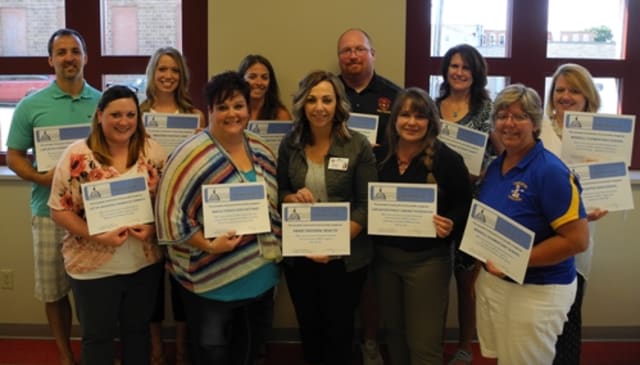 Contact: Rochelle Williams
Twelve Grants Presented by Lancaster Community Fund
The Lancaster Community Fund presented 12 grants, totaling $20,960 at its spring grant presentation event held Wednesday, June 29. Monies were awarded from the Morse Family Fund, the Schacht Family Fund and the Lancaster Community Endowment Fund.
In reflecting on the presentations, board chair Dave Helmke noted, "Making grant presentations is very rewarding and the projects funded will have a lasting impact on our community. That being said we need to remember that it is generous people in and/or from our community who have made this possible. So many people have invested in the Lancaster Community Fund since our founding 17 years ago and for that we are very thankful. We have and continue to receive annual gifts, memorials, and estate gifts. We, as stewards of these gifts, have significant responsibility in making grant awards that, indeed, are 'For good. For ever. For Lancaster."
Five grants, totaling $14,660, were funded by the Lancaster Community Fund Endowment. Awardees included:
City of Lancaster/Chamber of Commerce: to fund entertainment – The Mighty Wheelhouse – for the 2016 Night on the Square;
Grant Regional Health Center: to assemble and distribute first-aid kits to Lancaster-based organizations, clubs, and teams;
City of Lancaster/Lancaster Fire Department: to fund building props for use in fire training;
Lancaster Public Library Foundation: to support enhancements to the preschool STEM and sensory equipment area in the library; and
Lancaster Community Schools/Winskill Elementary: in support of the 'Fun for All' playground accessibility project.
Awards from the Morse Family Fund totaling $4,600 were made to:
Family Promise of Grant County: to purchase a computer and printer for client use;
Lancaster Congregational Church: to fund a Grant County Fair Family-friendly Music/Entertainment event;
Lancaster High School: for the 2017 Post Prom;
Maple Street Kids Daycare: to support "Kids in Motion" and specifically to purchase a step-and-rock boat and for 4 roller boards; and
Wisconsin Badger Camp: in support of camperships for attendees from the Lancaster School District.
Two projects receiving grants from the Schacht Family Fund totaling $1,700 include:
Lancaster Community Schools/Winskill Elementary: in support of the "Continuing our Dream of Technology" and specifically to purchase mini-iPads for use in the kindergarten classrooms and
Lancaster Community Schools: to purchase bicycle helmets and continue the "Fit 4 Life--Safe 4 Life" project.
The Lancaster Community Fund, a component of the Community Foundation of Southern Wisconsin, Inc., is a tax-exempt public charity. It was established in 1999 and, with this year's grants, will have distributed over $277,000 in the community. The LCF provides a means for individuals, organizations and businesses to support their unique charitable community interests.
For more information about the Lancaster Community Fund, contact advisory board chair David Helmke (608-723-2185) or Barb Daus, donor services representative with the Community Foundation of Southern Wisconsin (608-778-3344 or Barb@cfsw.org). Donations may be made to the LCF, PO Box 294, Lancaster, WI 53813. For further information about the Community Foundation of Southern Wisconsin or to make a donation online, visit www.cfsw.org.
###
Spring 2016 Grant Recipients –– Lancaster Community Fund, Morse Family Fund, and Schacht Family Fund
Front row – left to right:
Heather Bontreger (Chamber of Commerce); Deana Gleason (Maple Street Daycare); Rochelle Williams (Grant Regional Health Center); Kristin Holman-Steffel (Lancaster Public Library Foundation); Sarah Williams (Lancaster Public Schools)
Back row – left to right:
Nate Dreckman (Lancaster Congregational Church); Kayla Leibfried (Wisconsin Badger Camp); Missy Sperle (Winskill Elementary Playground); Jason Wagner (Lancaster Fire Department); Bev Doll (Family Promise of Grant County); Leah Whitford (Lancaster Public Schools)