Rachel Loeffelholz recognized with DAISY award
Hospital news
|
Thursday, July 1, 2021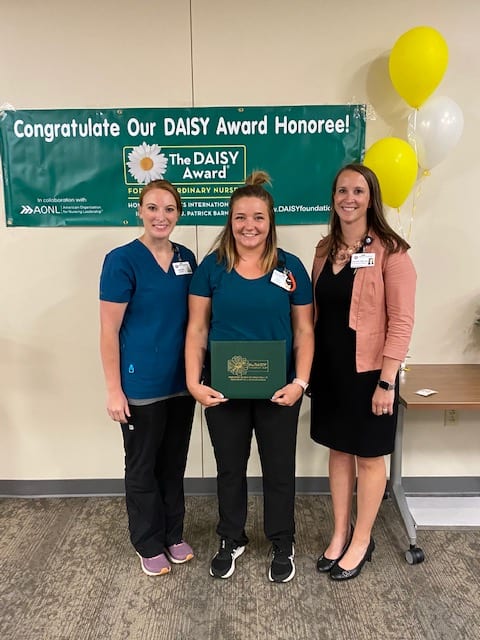 Grant Regional Health Center is excited to announce its second DAISY Foundation honoree. The award was presented on Wednesday, June 30 to Rachel Loeffelholz, RN. The DAISY award is a national award that recognizes extraordinary nurses and will be awarded twice annually at Grant Regional. Rachel was selected from 7 staff nominations.
Rachel is a RN, BSN who has worked in several departments throughout the hospital including Med/Surg and ER since January 2020 and previously in the OR. She earned her nursing degree from University of Wisconsin - Milwaukee in 2015 and has been employed at Grant Regional Health Center since 2016. Rachel is currently enrolled in the MSN-FNP program through Franklin University.
Nominations for this award are encouraged and can be submitted anytime throughout the year. Rachel's nomination was very touching and meaningful as we learned that the patient who nominated her for the DAISY Award had later passed away. Judith Wright of Lancaster submitted a very heartfelt entry on behalf of Rachel and the compassionate care she provided to Judith during a hospital inpatient stay. With this award, we recognize Rachel for her dedicated and outstanding service to Grant Regional and our patients.
The nomination read,
"To whom it may concern:
I would like to nominate Rachel Loeffelholz for the DAISY Nursing Award. She is an outstanding nurse in my eyes. She provides great care as was proven during my most recent hospital stay. I was in the hospital and had a procedure on February 24th. I was told that upon returning to my room I had no color and stopped breathing. Within minutes the rapid response team went into immediate action to save my life. One of those team members' actions was exceptionally admirable and that was Rachel. Not only is she kind, compassionate and cared for me all day that day but her quick actions were instrumental in saving my life. She helped to keep my airway open until Respiratory could arrive and put me on a breathing machine. Rachel was able to assemble a group of coworkers that each had their own part in helping assist me to recovery. Although there were many people involved in my care I feel Rachel played the biggest part. She was aware of all of my medical concerns and apprehensions before and after my procedure. Throughout my whole event she was able to stay by my side until I became more responsive. She went above and beyond for not only me, but also the concerns my husband had as he also witnessed my scary breathing event. She made sure that my husband was informed with all of the decisions being made on my behalf when I was unable to speak for myself. My husband was able to place all of his trust onto Rachel's care for me. He never doubted any of the decision made. I can tell that not only is Rachel great at what she does, she is truly passionate about caring for her patients. She is an excellent nurse. She would be a vital team member no matter where she works, but she is truly a vital team member at Grant Regional Health Center.
Sincerely,
Judith Wright, Lancaster
About DAISY Award
In late 1999, at the age of 33, Patrick Barnes awoke with some blood blisters in his mouth. Having survived Hodgkin's Disease twice, he was admitted to the hospital and diagnosed with the auto-immune disease, ITP (Idiopathic Thrombocytopenic Purpura).
Said his father, Mark Barnes, "We are so blessed that we were able to spend the eight weeks of his hospitalization with him and his family. During those weeks, we experienced the best of Nursing. We were there to see the clinical skill that dealt with his very complex medical situation, the fast thinking of nurses who saved his life more than once, and that nursing excellence that took years to hone to the best of the profession. But frankly, as a patient family, we rather expected that Pat would have great clinical care. That was why he was in the hospital. What we did not expect was the way his nurses delivered that care - the kindness and compassion they gave Pat and all of us in his family every day. We were awed by the way the nurses touched him and spoke with him, even when he was on a ventilator and totally sedated. The way they informed and educated us eased our minds. They truly helped us through the darkest hours of our lives, with soft voices of hope and strong loving hugs that to this day, we still feel."
Just days after he died, the family began talking about what they would do to help fill the giant hole in their hearts that Pat's passing had left. His wife came up with the acronym, DAISY, standing for diseases attacking the immune system. As they discussed what to do in Patrick's memory, first and foremost, they wanted to say Thank You for the gifts nurses give their patients and families every day. That is when the family created The DAISY Award For Extraordinary Nurses.
Grant Regional is proud to continue this important tradition to recognize those who excel in the nursing profession. For more information about our hospital and services, visit our website at www.grantregional.com.