Grant Regional to Host Sports Physicals at Local Schools - Fees Donated Back to Schools
Community news
|
Friday, June 3, 2022
Contact: Rochelle Williams
Grant Regional to Host Sports Physicals at Local Schools - Fees Donated Back to Schools
Grant Regional Community Clinic will hold Sports Physicals for all school activities at area schools beginning next week. These physicals will cost only $25, and all fees will be donated back to the local school of choice. No appointment is neccesary to attend the physicals at each school. You can also make an appointment for a Sports Physical at Grant Regional Community Clinic's Lancaster, Potosi, or Cassville location(s) any time between June 13th-July 22nd. Please see below for each school's on-site dates and times.
Please note: no insurance filed. This exam should not replace your annual physical. Cash or Check Only – No credit or debit cards please.
Lancaster High School: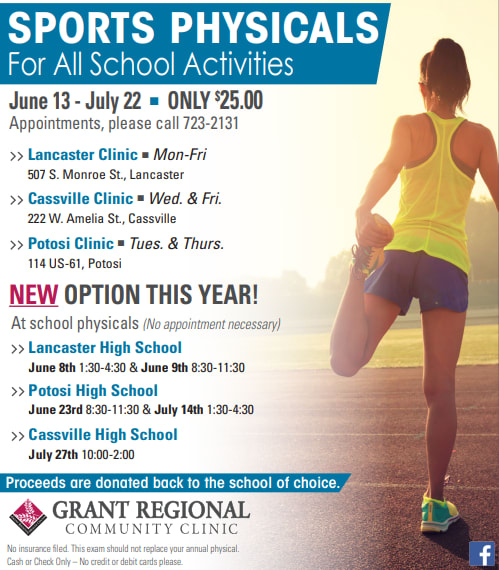 June 8th 1:30-4:30
June 9th 8:30-11:30
Potosi High School:
June 23rd 8:30-11:30
July 14th 1:30-4:30
Cassville High School:
For any questions, or to make an appointment at any of Grant Regional Health Center's locations please call 608.723.2131 today.