Featured stories
Swing-bed patient
For Peg B. of Lancaster, the past six months have prompted a lot of change in her life. As she looks back at that time, she now recognizes how COVID-19 caused her to feel very isolated and down. For someone who lives alone, she said she felt the effects of social distancing and not being as active more than ever. "I was having some challenges at home with weakness and falls and ended up needing to go to the hospital."
Peg was hospitalized for three days and then transitioned to the Swing-bed program for an additional week long stay. She was very impressed with the personalized care that GRHC offers. She says she was pleasantly surprised at the changes at Grant Regional, having not been here since the expansion.
She had surgery at another hospital in the area and now that she has been here, she points out the many differences. "It's a feeling. Something you just know. When staff really cares about you – it shows in so many ways," Peg explained. "They make you feel important. I shouldn't name names because everyone was exceptional, but I will point out one special night nurse, Carrie Blessen. She really listened to me. It felt so good to share things, especially when you don't have anyone to talk to. I think I might have talked her ear off," Peg said with a smile. "Other hospitals can say they provide personalized care, but being able to experience the difference, I believe there's no comparison to Grant Regional."
Unfortunately Peg's three children do not live close, so taking advantage of the Swing-bed program was important to her recovery. "I didn't realize how much I needed the Swing-bed program, until I saw how much it helped me. I've been able to rest, recoup and feel like myself again. With daily physical therapy, good nutrition and other support, I feel so much stronger."
She also mentioned she's very happy to be able to return back home, when before she wasn't sure that was possible. Now, with the help of Grant Regional's staff and area resources, she will continue regaining her health and independence by coming back to Grant Regional for outpatient physical therapy. Grant Regional staff also helped to arrange Meals on Wheels and home health and assistance through a private agency.
"There are some real incredible people who work here," smiles Peg. "It's been a joy to be here. I actually have mixed feelings to leave. They've been so kind. They try so hard. We're lucky to have a hospital like this in a town this size."
You've heard the saying, "laughter is the best medicine" but Roger thinks Grant Regional was the best medicine for him!
Roger Blum of Potosi is someone who enjoys a good joke and lots of laughter. Happiness for him is being outdoors and horseback riding, something unfortunately he hasn't been able to enjoy recently.
He had been seen by other medical providers in Dubuque, but through an appointment at our Potosi clinic location, he established care with Katie Gudenkauf, APNP, and knew then and there he belonged at her clinic. He had been complaining about a sore knee to a Dubuque provider, but it wasn't until Katie took his concerns seriously that he was able to finally get some relief from the arthritis. And because the Potosi clinic was much more convenient as far as location and scheduling, Roger quickly realized how important local care was. He said he experienced a new kind of healthcare. Katie really listened to his health concerns, provided a thorough examination and took the time to build a relationship of trust and understanding.
Roger was previously diagnosed with heart disease and had suffered several heart attacks in the past. He was starting to notice shortness of breath in April but was surprised when his condition took a turn for the worse at a doctor's appointment in Dubuque. He ended up in Cedar Rapids with an array of procedures, including coronary artery bypass graft surgery (CABG, pronounced cabbage), also known as heart bypass surgery. He returned to a Dubuque nursing home following surgery, but really wanted to be closer to home.
With congestive heart failure and newly diagnosed pneumonia that was not getting better, he was encouraged to take advantage of Grant Regional's swing-bed program that would allow him more time to rest, recoup and get stronger—with the goal to go home. And even though Roger was not exactly thrilled at first about staying in a hospital longer, he relied on his providers and the trust that he had developed with them.
"I was surrounded by caring professionals from all directions," he said. "From nurses like Brooke Oyen to rehab staff to medical providers, they were all pulling for me. How could I not step up and do the same? Kate Reuter and Kelly Muench (pictured) also encouraged me to continue our care plan and focus on getting stronger. It made it a little easier for me knowing they were there to lean on."
Roger's 11-day stay in the swing-bed program away from home wasn't easy, especially during the pandemic but staff found ways to make it interesting and enjoyable. The swing-bed program offers a lot of interaction from physical therapy and daily activities.
"I could tell a lot of thought went into this program to make it nice for those who need extended time in a hospital. And the room was very comfortable and quiet during my stay," said Roger. "The nurses even got used to my jokes," he said with a smile.
After a remarkable recovery, he's ready to head home.
In today's world, hospital stays are typically a few days, but not for Rod Wolf of Lancaster, who has had an extended stay in our swing-bed suites. Rod suffered a fall at home while walking out to check on the progress of his driveway resealing project. His fall, which he attributes in part to his unsteadiness due to Parkinson's disease, also caused him to suffer a pelvic avulsion fracture and subarachnoid hemorrhage (brain bleed).
Since the fracture involved the hip socket (specifically the left acetabulum) not the hip itself, surgery was not a solution. The best course of treatment was rest, recoup, regain mobility and let it heal on its own. Because his recovery would be close to six weeks, they knew going home would not be an option, and he preferred not to be transferred to a nursing home. He was transferred back from UW Hospitals in Madison, and luckily for Rod, Grant Regional's swing-bed program was a convenient alternative.
"He basically got the worst of the worst with his fall," explained Tami Griswold, PTA, who assisted him throughout his stay with physical therapy. "He initially could only use toe touch to weight bear until the healing process showed he could advance to partial weight bearing with the help of a walker."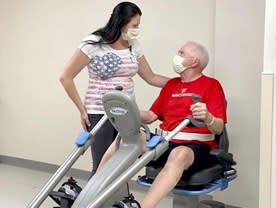 His recovery was slow. It took five weeks for Rod to be able to put pressure on his hip and actually walk around the unit. "My wife, Norma, really didn't think I'd ever walk again," Rod said with a wink. "But I told her I would."
Rod's strong worth ethic grew from his past, including being in the military and working for Potosi Township, covering 74 miles of road for 13 years until he retired at the age of 65. Prior to that, he was a truck driver for many years and drove to California and back and loved every minute of it. But now he admits he likes to keep busy and has sat longer than he cares to during his recovery.
While in the hospital Rod missed home and seeing his family, but said on the bright side his stay was really good and he pointed out the food was great. "I might have even gained a few pounds," he smiled. He said he felt spoiled by how good he was taken care of. "The staff go out of their way to make sure I have everything I need," explained Rod. I can't think of one thing in the entire time I've been here that hasn't been truly great."
Rod was diagnosed in 2005 with Parkinson's disease and with the care of his physician has closely monitored the progression of the disease. Parkinson's is a neurological disorder of the brain in which specific cells that control movement are degenerating. Symptoms, which develop slowly over years, vary from person to person and may include shaking or tremors, rigidity, slowness of movement, and walking and balance problems. Symptoms begin most often in a person in their early 60s. Because Rod's left side is impacted, he had used a cane prior to his fall. But with his commitment to staying active, he was able to continue to live at home and do the things he enjoys. He is committed to regain his mobility and independence and hopes to get back to life as it was before the fall.
The silver lining to this is that now, through his rehab in the swing-bed program, Rod has learned that Grant Regional offers a program specifically for those living with Parkinson's disease. Big and Loud is a physical therapy program that helps improve function and slow motor deterioration by retraining sensory, motor and cognitive functions through intensive exercise and patient empowerment.
Rod had been hospitalized at Grant Regional prior to the expansion and noticed how much things have changed. About three years ago, he had an extended stay following several GI surgeries. He was very pleased with the "state of art" new rooms and med/surg unit. He said he "felt good about coming back to GRHC this time around because of the wonderful care" he received years ago.
Familiar faces also helped him during his stay. Jackie Edge, ER Tech/CNA, explained, "Rod's youngest son is married to my oldest daughter, so we had many things in common to talk about." Jackie went on to say, "He asked me once if I ever get lonely and that was my cue to spend more time with him when possible. His wife, Norma, also sent me videos on my days off to see his progress."
After six weeks, Rod was all set to head home when plans had to be delayed. His wife was exposed to COVID through a granddaughter and needed to be tested, which delayed his discharge by a few days. But on Thursday, July 2, after 44 days in the hospital, he was surprised to see the send-off from staff who wanted to wish him well. Rod said "There's no place like home" but is still very thankful for the great nursing care, motivating rehab staff that helped him regain mobility and comfortable surroundings that Grant Regional had to offer. Rod will continue his progress after he goes home by returning to Grant Regional to do outpatient physical therapy to help increase his independence, strength and mobility.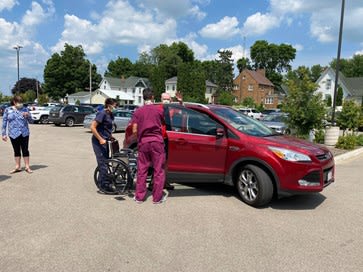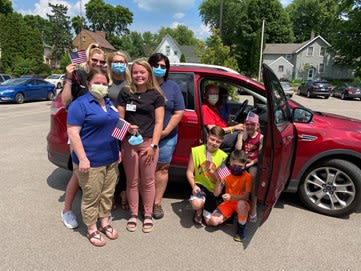 For more information about Grant Regional Health Center's Swing-bed Suites, go to grantregional.com or call 608.723.2143 to learn more.
Emergency services

Happily (and healthy) ever after!
With her wedding only weeks away, Shawn was busy preparing and looking forward to their big day. As a mom of two and working full-time, she definitely didn't have time to be sick, especially now. But unfortunately, Shawn had been experiencing severe pain in her abdomen, back and right side, off and on for about three weeks.
She was seen several times at various clinics and hospitals outside of Lancaster to no avail. She tried to continue to work and manage her household as best she could, but the pain was relentless. She was unable to get a diagnosis or relief from pain. That is until Shawn decided to seek care at Grant Regional Health Center's Emergency Department.
"I just couldn't tolerate the pain anymore. I had been to several different clinics and hospitals outside Lancaster and no one could seem to figure out what was wrong," said Shawn. "I decided to go to Grant Regional's Emergency Department with the hope that someone could help my condition."
After being seen in the Emergency Department, Shawn was immediately referred to Dr. Carl Sunby, Grant Regional's general surgeon, by her primary care provider, Dr. Sheirlie LaMantia. It was determined that she had a severe infection in her lower abdomen due to a ruptured appendix, with multiple abscesses in her abdomen.
"In my opinion she was very ill from the infection, and I felt she was extremely fortunate that her condition wasn't worse, considering what she had been through," explained Dr. Sunby.
She was then taken to surgery, with the intention of laparoscopically removing the infected appendix and draining the abscesses. "However, due to the severity of the infection, I determined the safest approach to address her problems was to open her abdomen to address the infection. Her surgery then required removing a portion of her intestine, which contained the ruptured appendix, and draining the abscesses. She remained in the hospital for several days on antibiotics and was discharged home a week following her surgery in good condition," said Dr. Sunby.
"I was very grateful to Dr. Sunby and the staff at Grant Regional. My family and my job are very important to me. I can't do a good job with my animals at work or be a good wife or mother when I'm not feeling 100 percent. They helped me get back to my old self—when no one else could!" explained Shawn.
"I knew it was serious, but I didn't know the extent of how serious until after surgery. I was very nervous since I had never had surgery before. Dr. Sunby must have noticed how nervous I was. He was great about explaining what would be done during surgery and after. I just knew it had to be more than a UTI. I received exceptional care from the doctors and nurses. All the staff was very caring and friendly. They kept me informed of what they were doing throughout my hospital stay.
"I was in the hospital for a week after surgery. Everyone was willing to help me out and told me everything that was going on with shift changes of staff and medications. They made sure I wasn't in pain and was comfortable. I knew recovery was going to take a while after surgery. I was off work for maybe five days total before surgery. After surgery it was about four weeks before I went back. When I did go back, I was on weight and activity restrictions for about a month. But the best part was I got to enjoy my honeymoon without any complications or worries. That was an amazing gift!
"I really owe my life to Dr. Sunby and Grant Regional Health Center. He admitted that I was one lucky gal to have gotten the proper treatment when I did. If I had waited much longer—I don't even want to think about the what if—let's just say I'm extremely grateful and happy to have my health back. It's something I know I will never take for granted."
Kid tested...mom approved
#mygrantregional
It's true what they say…the more kids you have, the greater the love. But what also comes with more kids—comes a higher likelihood of trips to the emergency room! Sierra from Lancaster knows this all too well. "I love being a mom," she explained. "My kids are my world! Every mom wants their kids to be happy and healthy!" But when accidents or illnesses happen, Sierra knows where she can turn to for trusted, expert, medical attention.
She is a busy, working mom to six (yes, you heard it right) six busy kids. "I have to admit—we've visited Grant Regional's ER—more times than I'd like in the past few years," Sierra said. The most recent visit ranked right up with the more serious of episodes. Her 6-year-old son, Heath, and 4-year-old daughter, Annabella, were playing in the yard when Annabella went to swing a golf club and hit Heath square in the face, slicing a huge gash in his nose. Sierra was out of town when she got the call. She arrived back in Lancaster at Grant Regional, just before the stitches. "Heath's Uncle Blake was a lifesaver and helped keep him calm," Sierra said. "I was very happy with my son's care and treatment. Dr. Z [Dr. Michael Zeman] took great care of Heath. He's such a caring and kind person." Ten stitches later, Heath was ready to go home.
Annabella had her own episode the summer before that when she fell at the park. "I knew it wasn't good right away after she fell. When she hit her head, it caused her to vomit," explained Sierra. "I remember hearing about how that reaction indicates a concussion." So off they went to the ER again. This time Jolene Ziebart, Family Nurse Practitioner, was the ER provider and recommended an x-ray to rule out any other issues. The x-rays found something they didn't expect to find—a quarter lodged in her throat! They do not know how long it was there—it wasn't causing breathing problems. It had likely been there for quite some time. "We wouldn't have known about the quarter if she hadn't fallen at the park!" explained Sierra.
Arthur is Sierra's two-year-old son. One day Sierra noticed he wasn't acting himself. As the day went on, he was less and less active until it actually appeared as though he couldn't move at all. She took him to Grant Regional and he was diagnosed with a severe viral infection and was later transferred by rescue squad to Madison. He was in ICU for six days and has since made a complete recovery. Sierra added, "Being in a large hospital definitely made me appreciate our small, hometown hospital—great care, and close to home!"
"Brady is my 9-year-old," smiled Sierra. "It's sort of common…kids tend to choke on things like food, even water sometimes...it's always a scare, but this one was one time I'll never forget. It happened two summers ago. Brady was choking so bad that we called the rescue squad. Turned out he was actually choking on a City of Dome pin! Then complications arose when the pin that was lodged in his throat, punctured his esophagus and wouldn't come out. I don't know what I would have done without the quick, expert care of the ER staff."
"My oldest is now 16. Looking back, Austin has been pretty lucky health-wise—except for about five years ago, he broke his right wrist that summer, and then the following summer he broke the other wrist! I just can't say enough about our care in the clinic and hospital."
Sierra's youngest, Zeppelin, is just 4 months old. He's been the healthiest out of the bunch—no accidents or illnesses so far! Hoping that this streak is behind them and only happy, healthy days ahead!
Life-changing care
"Grant Regional's Lymphedema program changed my life, and I can't thank them enough!" ~Lisa
As a busy and organized elementary school principal, the last thing Lisa had time for in her schedule was a debilitating health condition. Her upbeat, on-the-go nature came to a screeching halt last summer when an out-of-the-blue, life threatening case of cellulitis turned into a serious form of lymphedema.
"After an unending road to recovery, the silver lining came when I learned about the care and services that Grant Regional Health Center provides to help manage the long-lasting effects of lymphedema. I can't imagine what my life would be like today and I'm so thankful for their expert care and concern," said Lisa.
She was halfway into summer and enjoying a little slower pace than the school year allowed. Lisa was someone who was always ready to tackle a new challenge, but nothing could have prepared her for the pace she'd be forced to take during the next six months.
She recalls the day it all began vividly. She was experiencing flu-like symptoms and remembers thinking that was odd ,as she rarely comes down with any illness. The next day she noticed considerable pain in her left lower leg but shrugged it off and tried to go about her day. The third day, she described waking up feeling as though she had broken her leg. (She smiled now—as she described it—saying, "Now how could I have managed that?") Her leg was red, swollen and extremely painful. It was then and there that her life as she knew it would be changed forever.
After a fast trip to the hospital and being admitted immediately, she was informed mid-morning that she was septic and needed to be transferred to Madison. The question was by ambulance or Med Flight—and it was quickly determined that due to the severity, she would need to be airlifted as soon as possible. She described the next three days following at UW-Madison, a flurry of tests, antibiotics and much worry as to where all this was leading. Doctors were giving her the indication that this severity could lead to the loss of her limb.
After three days at UW, Lisa was transferred to St. Mary's, and it was at this point doctors felt her leg would survive this severe case of cellulitis. Medical staff from all three hospitals agreed it was the worst case they had ever seen.
A reaction to an existing medication prolonged her hospital stay 12 more days. She recalled gaining 40 pounds of fluid during that time, and her physician informed her that she could expect her leg to be swollen the rest of her life. With that daunting prognosis, Lisa returned home, only to be instructed to keep her leg elevated the rest of the summer. She was able to return to school that fall for a period of time, but her condition then resulted in another major health problem, lymphedema. She was left feeling very tired and unable to keep up with the physical demands of her job.
"My leg continued to be extremely swollen and sore. Even months later, I still felt very discouraged and that there was no hope for any improvement," explained Lisa. But given Lisa's strong will and determination, she refused to give up. She continued to ask questions of her dermatologist and primary care physician. Finally in December, she was told that possibly a treatment for lymphedema could possibly help her condition. That is when she learned about treatment options at Grant Regional in Lancaster.
Amy Roach, Physical Therapist at Grant Regional, has seen the life-changing benefits that lymphedema care can provide. "I was anticipating about six weeks of treatment in Lisa's case and was thrilled to see vast improvement in only two weeks!" Amy explained. "She was treated three times per week and during those visits we helped her gain confidence with her new daily routine of home exercises, deep breathing, wrapping and eventually wearing compression stockings to control the lymphedema."
"Even though I'm so glad to be out of therapy, it really was exactly what I needed and more—it was just as much psychological as it was physical therapy!" Lisa said. "Amy and Tonya [certified lymphedema therapists] were wonderful to work with! They provided so much needed support and a refreshing, positive outlook—which I was desperately lacking. I can't describe in words how this has changed my life. They shared so many important, helpful hints—like shaving cream for the irritations associated with skin damage. (who knew?) It was really so much more than I expected when I first started," said Lisa.
Lisa went on to say, "It's amazing to think that in just two short weeks, they were able to help me reduce the overall swelling in my lower leg 40 cm (approximately 16 inches)! I will still have to be diligent and wear my compression stocking and take care of myself—in order to avoid the swelling to return. After this difficult year, I can now say I'm much happier and getting more active each day."
Lisa said she looks forward to spending more time with her granddaughter Lauren and knows that she has the staff at Grant Regional to thank for her improved health and physical ability. She felt that difficult year had robbed her of precious time and said she is excited to feel better into the future. She encouraged anyone going through similar health problems to not wait even one day. There are many treatment options available, and Grant Regional Health Center has the trained staff to help you get back to an active life!
Grant Regional Health Center offers three staff members who are certified in lymphedema care. For more information about lymphedema or our services at Grant Regional Health Center, contact 608.723.3236.
Heart Health: We're Here for You!
This June was especially meaningful for Scott Crapp of Lancaster, as he celebrated the recent high school graduation of his oldest son. Just a year ago, he experienced a scare of a lifetime that he won't soon forget. What a difference a year can make!
As an active farmer, Scott doesn't slow down for much of anything. There is always something to be done, most illnesses are short-lived and then it's back to work. But last year on June 5, Scott awoke around 1 a.m. extremely uncomfortable. He tried to sleep in a chair but was experiencing a heaviness in his chest. With pressure applied to his chest and side, the pain would lessen some, but by 2 a.m. he knew he had to wake up his wife, Shonda, and get help.
Serious
Normally, Scott might hesitate to go to the emergency room (ER). After all, he had felt fine all day up until that point. Shonda knew that when he didn't argue, it must have been serious. After dropping him off at Grant Regional Health Center (GRHC) and parking the car, Shonda hurried in and found Scott in a large trauma room, which she knew wasn't a good sign.
Their son Jarin has epileptic seizures, and the family has had to become routinely familiar with GRHC's ER.
In good hands
Scott's EKG indicated something was wrong, but what for sure was still uncertain. Could be a heart attack; could be something else. When the blood work returned, they were quickly informed Scott was going to be flown to Madison. (Scott was one of the first patients last summer to experience a Med Flight takeoff from the alternate location on Roosevelt Street near Elite Fitness, due to GRHC's expansion project.) By 3 a.m., Shonda and their three children were on the way to Madison with wishes from GRHC staff to slow down and drive safely; Scott was in good hands, they reassured her. But Shonda was still filled with worry and her head was swimming with questions. Her father had open-heart surgery and a quadruple bypass just three years ago. Would Scott be the same? Would their children see their dad again? Would he be OK?
Good news
Luckily, it turned out to be myocarditis, which is a disease marked by inflammation and damage of the heart muscle. Interestingly, the symptoms resemble those of a heart attack. A cath was done immediately upon his arrival at Madison, and an MRI was scheduled for later in the day. Between the time Scott checked in at GRHC and the time he arrived at Madison, his troponin spiked from 2.07 to 7, which meant Scott could not go home that day.
Scott was prescribed a regimen of three months of medication with high doses of aspirin for two weeks. Plus, no lifting over 10 pounds, a tall order for a farmer.
Scott and Shonda felt extremely lucky to have GRHC so close to home and was so well-equipped to help Scott during this terrifying moment of their lives. The UW physicians agreed that if not for GRHC's care and attention, and if Scott had waited or ignored his symptoms, the situation could have taken a drastic turn for the worse.
Although the exact incidence of myocarditis is not known, it is estimated that several thousand patients per year are diagnosed in the U.S. Myocarditis usually affects otherwise healthy people. It is believed that 5% to 20% of all cases of sudden death in young adults are due to myocarditis. There are many causes of myocarditis, including viral infections, autoimmune diseases, environmental toxins and adverse reactions to medications.
When it comes to matters of the heart, GRHC's team of expert physicians and Cardiac Rehab team are ready and available to assist you when you need it most.
From devastating accident to miraculous recovery, Dillin showed remarkable strength and an incredible will to live.
"It was a day I'll never forget," Janell Meier said, recalling the accident that nearly took her son's life. "In the blink of an eye, your entire world can change. I really thought we were going to lose Dillin that day. I now believe in miracles."
Nothing short of a miracle is the best way to describe Dillin Meier and his new lease on life. But for the Bloomington native, he'd tell you he's always appreciated his life, his family, and farming—but now maybe just a little more. He's lived and worked on his family farm his entire life and continued to help his family as he worked to complete his degree at Southwest Tech in Farm Business and Production Management.
November 27, 2018, was a regular Tuesday for 19-year-old Dillin, back to normal after a little break from school to celebrate Thanksgiving the week before. On this day he was helping cut wood with his dad, Tony, and his cousin Joe as he had countless times before. Dillin was in the 4250 John Deere tractor getting ready to move a large tree. With Dillin's dad in the skidster and Joe hooking up the log chain, Dillin started to tug at the tree to get it move when suddenly the log chain snapped into three pieces. The end of the chain launched up and over the cab of the tractor, causing the hook end of the chain to crash through the back window of the tractor cab—hitting the left side of Dillin's head. The force of the impact immediately caused Dillin to collapse unconscious while the tractor was still moving. Joe ran to the tractor and was able to get inside, support Dillin's lifeless body and call 911.
West Grant Rescue Squad and Glen Haven First Responders were on the scene in record time and attempted to get him out of the tractor. By then, Dillin had come to and was flailing his arms and screaming in pain. Andrew Nicholas, EMT, recalled Dillin's injuries and the ride from the scene to Lancaster. "He's a pretty big guy, and it took four of us to try and stabilize him. I really didn't know how he was going to pull through," explained Nicholas. "My main goal was to keep him down, at the same time, try and stop the bleeding. All indications were that this wasn't going to be a good outcome."
Meanwhile, Grant Regional's ER trauma team was activated and ready for Dillin when he arrived. When the rescue squad reached Lancaster, Med Flight was landing on the hospital's helipad. He was transported into the ER and immediately sedated and intubated to assist his breathing. Just moments before Dillin's arrival, a Lancaster rescue squad had arrived with another head trauma injury from a different accident, mobilizing over a dozen hospital staff, EMTs and Lancaster Police to respond to both urgent needs. In a matter of 90 minutes from accident scene to Lancaster and on to Madison, Dillin was swiftly delivered to the rooftop helipad of UW and into the care of the Level 1 trauma facility. The next 24 hours following the accident were touch and go, but Dillin made remarkable improvements. Within 36 hours, he was taken off the ventilator and was showing great signs of recovery.
Bloomington EMT Andrew Nicholas admits this ranks right up there with some of the worst traumas he's been involved in. But Dillin showed that day he was not only strong but also a fighter. He proved that he had the will to live and his incredible recovery is proof of that. Just five days after the accident, Dillin was discharged to go home.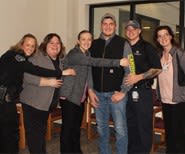 Only four short weeks later, Dillion said he was not quite 100% but close. His recovery included physical and speech therapy two times a week. He also admitted he's a little more cautious than he used to be but looking forward to getting back to doing the things he loves—being on the farm and helping where he can.
"I can't say thank you enough to the EMTs, first responders, and the life-saving care at Grant Regional. From what people tell me, I don't think I would be here today if it weren't for them," said Dillin. "On December 20, I got to meet these special people who I don't remember at all from that day and say thank you in person. I looked in their eyes and saw firsthand their dedication and compassion. It gave me chills, and I appreciate each and every one of them for all they did to save my life that day. I will be grateful for the rest of my life."
Remarkable recovery after serious accident
Julia Warrington of Bagley: Grateful for excellent care close to home
"On July 23 I was out mowing the lawn in the early evening while the boys were at football practice. I had just finished, and it was about supper time. I was coming back across the top of the hill in front of my house and noticed a spot that I missed. When I turned the mower to go back down the hill, the tires didn't track, and I was not turning, so I tried to straighten the wheels and the mower started to slide. About halfway down the hill the tires caught, and the mower flipped to its side. The handle that lifts the deck impaled my leg at the ankle and forced all of my skin up inside of my leg. I immediately tried to lift the mower off of my leg, but I couldn't move it. I flagged down the first vehicle that went by who in turn flagged down the next vehicle. A young man lifted the mower off of my leg while another person dialed 911. Within minutes he had my leg wrapped in his shirt with a belt around it, and he had ran up into my house, brought out pillows and got me a towel.
"It was just amazing how fast things went. Then people started showing up that I recognized—first responders Greg and Shirley Sletten, Pam and Scott Myhre, Amber Martin. The West Grant rescue squad arrived in no time with Denny Cathman, Jody Moris, Helen Struntz and a driver that I don't remember ever seeing. I remember telling Denny that I really wanted to be taken to the Lancaster hospital (even though I lived a lot closer to another hospital), and how relieved I felt when he said, 'You're stable you can go wherever you want.'
"All the way there, I quietly prayed that Dr. Smith would be in the ER. Not only because he delivered two of my kids, but because I trust him 100%. Within a few minutes of getting to the ER, I knew I had Dr. Smith, and right there with him was Dr. Binsfeld, Orthopedic Surgeon. Once they knew what they had to do, they called in both Scott and Michelle Bainbridge. Scott did a pain block on my leg, and Michelle gave me the anesthesia so they could try to stitch my leg back up.
"From the time we got to the hospital, everything happened so quickly. But I felt so relieved knowing that I was in excellent care. I trusted this group of familiar faces! Michelle Bainbridge was with me for my last delivery, and Scott did anesthesia for my carpal tunnel surgery. Not to mention that their father, Dave, was there for me through many visits, including: delivering my children, post-eclampsia, gallbladder surgery, knee surgery, colonoscopies and (believe it or not) got me to quit smoking!
"After they gave me some pain medication, I couldn't answer for myself, and I couldn't really comprehend what Dr. Binsfeld was explaining to me, so my mom—who is 88 years old—she turned and looked at Dr. Binsfeld. She told him that we trusted him 100%; that whatever they felt they needed to do was going to be what I wanted. They were right.
"Later when the plastic surgeon at UW Hospital went back over the information, she told me how fortunate I was that I had such a diligent surgeon who had cleaned that out, because I had been mowing below my septic system and had three different kinds of stomach bacteria in my leg. There was a very good chance I could have ended up with gangrene that could have caused me to lose my leg or possibly even my life. The day after the accident, Dave Bainbridge came and sat with me in the hospital for at least an hour and shared stories about his kids and his family and reminded me just how lucky I was. I thanked him again for making me feel guilty enough to quit smoking 11 years ago and told him I wasn't making him any more pies because I found out he was diabetic.
"Since then I spent seven weeks going back-and-forth to Madison twice a week with a wound VAC and complications with a skin graft. I was fortunate enough to have my physical therapy at Grant Regional in Lancaster and everyone was just amazing.
"Through all of this, Dr. Binsfeld has stayed in touch with me and kept up on my progress. The nurses and the doctors at the hospital were all beyond fabulous, and I found out when I had to go back to the emergency room one night that I was known as the lawn mower lady! I am planning to return to work in December, and I am beyond grateful for every person who supported me through this difficult journey. I live closer to another hospital, but I choose Lancaster. I was born in Lancaster myself. My parents were from Grant County, and we have continued to use Grant Regional Community Clinic and Grant Regional Health Center because the people there are like our family. I can't tell you what it means when you're in a situation, scared out of your mind, not sure what's coming next and able to look into the faces of people who you know truly are going to do everything they possibly can to take the very best care of you."
Maternity services
"It's twins!" was just the first surprise
With babies, things rarely go as planned. Renee Kwallek's pregnancy was about as unpredictable as they come—from fainting at 11 weeks to delivering at just over 36 weeks.
The first-trimester fainting spell led to a trip to the hospital with Renee's sister Paige, where they found out Renee was having twins.
"Unfortunately, Dan and I found out at separate times," said Renee, who admitted that she was a little disappointed that it happened that way. That's the nature of babies though, and any parent will tell you that the first thing you learn is to plan for things not to go quite as planned. She told her husband, who was out of town, the next morning. They both had the same reaction: smiling on the outside, slightly panicky on the inside.
The rest of Renee's pregnancy went really well, she said. Renee's doctor suggested that they go meet with a doctor in Dubuque in the event that she went into labor before 36 weeks and would have to deliver there instead of at Grant Regional Health Center as planned. They had to take a trip there anyway, as a white spot was found on one of the twin's hearts during an ultrasound. Thankfully, the spot eventually went away and was not a concern.
When Renee hit 36 weeks, she was clear to deliver at Grant Regional. Two days later, on Oct. 21, at 4:30 a.m., she went into labor.
"I did deliver both babies naturally," Renee recalled. "Which was what I was expecting. What I wasn't expecting was to deliver Calie breach at 1:23 p.m., and that Ariella would take quite a bit longer."
Renee laughed. "Turns out Calie was in a hurry to come into this world, and Ariella wanted to wait a little longer. Lucky for me, I barely felt the contractions I was having after delivering Calie, but then that also meant that Ariella was not even close to being ready to be born."
At around 7:30 p.m., Renee and her doctors made the decision to break her water.
It's very unlikely for twins to be born more than three hours apart. Calie and Ariella were born seven hours apart.
"I remember wanting to hurry up and get the second delivery over with, but then on the other hand, it was nice to get some rest before going through another set of contractions and delivery. I guess if my water would have broke sooner, on its own, I wouldn't have this story to tell!"
Overall, the experience was unexpected, but Renee and Dan were very happy to be so close to home and have the compassionate staff they did at Grant Regional Health Center. "I have total confidence and trust in them," said Renee. "I wouldn't have wanted to go anywhere else."
Generations of trust and care
Kay Brandemuehl is no stranger to Grant Regional Health Center—she's been a volunteer at the gift shop for many years. But Kay's history with the hospital goes back much further than that. For Kay and her family, Grant Regional Health Center has been a trusted source of care since the hospital's beginning.
Kay's second child was one of the first to be born in the facility in 1955. "We raised seven healthy kids because of our local hospital," she said. "To me, it's very important to keep this hospital in town. It feels like family. People know they are cared about here."
Kay's daughter, Sue McLean, has bittersweet associations with Grant Regional Health Center. She was born there, and she had all five of her children there. But the moment most memorable to her was when her husband passed away just before her daughter's wedding. "With many family members in town for the wedding, the hospital was filled with friends and family. The hospital blocked off a whole section for us. It was very much appreciated."
Sue shares her mother's confidence in the care at Grant Regional Health Center. "It's a huge relief knowing medical attention is less than 10 minutes away," she said.
No one has felt that relief more than Sue's daughter (Kay's granddaughter), Erin Jensen. Like her mother, Erin also had all of her children at Grant Regional Health Center. Like her grandmother, Erin is also a part of Lancaster's medical community, working at High Point Family Medicine for the primary care provider she respects and trusts so much.
"With four small children, you never know what each day will bring. Having a local hospital with so many services available puts me at ease for the unexpected," said Erin. The unexpected hit when Erin was delivering her youngest child, Leah, on June 30, 2014.
Leah decided to arrive at the same time a tornado came through Lancaster and the city lost power. "The hospital was on lockdown," recalled Erin. A professional, Erin labored though work, then got home in time to take her older children to her mother's before arriving with her husband back at the hospital at 6:01 p.m., one minute after the hospital regained power. Nine minutes after that, Leah was born.
"I was impressed with the efficiency and calmness of the nurses during that stressful rush," Erin said.
Through four generations, Grant Regional Health Center has been there for Kay, Sue, Erin and their families. "There is a sense of trust and confidence when you know the people caring for you and your family," said Erin. "It's a difference that means the world."
Forever grateful
Christmas came eight months early to the Goodrich House this year! We are beyond blessed! And we have these wonderful angels (along with many more) at Grant Regional Health Center to thank for that! Words can never express how much we appreciate them! We are "Forever Grateful!" Happy 8 Months Greta Lynn! Here is our story...
At our January 10, 2018, ultrasound, we heard the amazing words, "It's a Girl!" We were beyond thrilled as we had a 3-year-old son at home. This little miracle would complete our perfect family! As our ultrasound technician finished up a few measurements of our daughter, a look of concern came over her face. "You have a placenta previa." I had never heard what that was, so when I asked she told me that my placenta was covering my cervix, and she explained that I would not be able to have a natural birth. I had planned to have a C-section with our second birth, as our first child was born by C-section at Grant Regional in 2014. We had transferred our family's care back to High Point and Grant Regional when we found out we were pregnant in September of 2017.
After our ultrasound, we had an appointment with our foctor, Dr. Eric Stader. We were thrilled to tell him that we were having a girl. I then told him that they had found a placenta previa in our ultrasound. He too explained that I would have a C-Section, which again was no big news as that was already part of our birthing plan. Dr. Stader also explained that I would have to have a few more routine ultrasounds to see how the previa was moving throughout my pregnancy.
As we got home, I had this uneasy feeling like I needed to see what this placenta previa was. I began to research Dr. Google and read about this condition. From what I read there were three stages. Marginal, partial and complete. I had no clue at that point what mine was. I was hoping for one of the first two as they showed the greatest odds to move throughout the pregnancy. A few days later, I received a call from the High Point Clinic about my previa. Unfortunately, mine was a complete covering, and at that point we scheduled another ultrasound for February. At this time, I had spoken with a neighbor who had this condition. She, unfortunately, mass hemorrhaged at home and nearly died. She gave me these two important pieces of advice that I took to heart: Have a plan and be prepared to have hysterectomy. I took those pieces of advice to heart and carried them with me to my next doctor appointment.
There showed no movement at our February ultrasound. Our motto at that point was to remain optimistic but prepare for the worse. We utilized those two pieces of advice and developed a plan for home, work and travel. Dr. Stader consulted with staff from Vernon Memorial Hospital as I would have to deliver there if I was at work. I had drivers lined up for both home and work, and I had medical records in every vehicle, in many of my colleagues' desks, along with phone numbers for hospitals and family on hand at all times. Then of course the most important thing we did was pray. We prayed for the health of our little girl, myself, the strength of the medical staff, and of course I always stuck in my prayers, "Please let my little girl be born in Lancaster at Grant Regional." Thank goodness we serve an amazing God who answered our prayers!
As our pregnancy continued we grew eager to meet our little girl. Our final ultrasound was on Friday, April 20. Still no movement, and in our plan, we agreed to have a scheduled C-section for Monday, May 7, at Grant Regional. Also, during this appointment, Dr. Stader told me that he was going to have Dr. Krynn Buckley scrub in on my C-section. I agreed and off we went to enjoy our weekend.
On the morning of April 25, 2018, our worlds could have taken a drastic twist. I woke up to go to work, but I just did not feel right, so I decided that was going to stay home to be closer to Lancaster. About 20 minutes later, I told my husband that I thought we should go in to get checked out. I called the hospital when we left the house, and they told us to drive safe and they would be ready when we got there. By the time we got there, I had started to bleed. I went straight to surgery, and Greta was born at 7:30 a.m.
During that surgery I lost about six units of blood, and my bleeding just would not stop as they had hoped. I finally was able to leave recovery to head back to my room at about 12 p.m. after nearly five hours post-surgery.
Of course, the first thing that I wanted to know was how my baby was doing. I was told at that point that she was being transferred to either Madison or La Crosse to support her breathing because her lungs were not fully developed. I asked to see my husband, and I told him to go with her and that I would be just fine. I did not know the severity of what Greta had gone through at this point thank goodness. She had quit breathing for minutes after birth. It took nearly six hours to stabilize her before she was transferred from Lancaster to Madison.
I was going to see her before she was transferred, but at about 12:30 p.m. I started to mass hemorrhage, and I had to go in for my second surgery for a complete hysterectomy. Unfortunately, my previa developed into what is called an accreta, and my placenta had grown into my uterus, and without doing the hysterectomy I would continue to bleed. During this surgery I again lost a lot of blood. I had to have 12 units of blood plus platelets and plasma throughout that whole day. I had almost lost every ounce of blood in my body. I also at one point nearly went unresponsive.
Waking up in the ICU at Grant Regional will always be one of the best feelings of my life. I knew waking up to a room without windows meant things were pretty serious. After hearing what had all gone on during the day, I had the choice to push myself to get through this or feel sorry for myself. The staff at Grant Regional helped support, strengthen, and push me to gain my strength back so I could finally meet my daughter four days later. They comforted, cared and listened to us in one of the most challenging times in our life. With developing and following the plan we (High Point, Grant Regional, and myself and my family) created, both my daughter and myself are here today, which is nothing short of a miracle.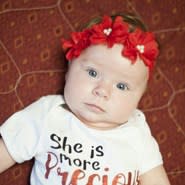 Forever grateful doesn't even come close to describing how we feel about Grant Regional. There really are no words to sum up the impact the staff made on our lives. Prior to April 2018, I can't tell you how many times driving through Lancaster I probably didn't even pay attention or take notice of the hospital situated right there in plain sight on Madison Street.
We drive by and on to our destination and probably in our busy lives, think little of the powerful miracles that quietly happen there every day. Well now each time I'm anywhere close, memories of what we experienced cause me to pause, be thankful and realize the important work they do. That important work is something these incredibly skilled and experienced individuals do for our community day in and day out. What we experienced on April 25 is nothing short of a miracle. We know in our hearts we have a beautiful, healthy daughter today because of the highly capable and compassionate care that we received while in Grant Regional's care.
After hearing our story, people ask how we did it. We tell them that we could not have done it without the care, love, support and guidance from Grant Regional and High Point. We had complete faith in knowing we were in the best hands possible.
I again want to thank all of your staff for their love and support. It truly means the world to family and myself. Many people have asked what they could do to help during everything. I have two requests: Please go home tonight and hug your family because each day is a blessing from above, and also if you get the chance, please donate blood. Without the unselfish actions of many people that made that choice, I would not be here today, and I will be forever grateful for them!
Love, Justin, Casey, Gavin, and Greta Goodrich
BIRTHdays 6/8/04, 9/3/07 & 5/5/10
For Dharma Doll, choosing to give birth to her children, Victoria, Eva and Annabella, at Grant Regional Health Center came down to her positive experiences with the caring and capable doctors she worked with as a nurse at Orchard Manor. Additionally, coming to Grant Regional to have children is often influenced by family members in our tight-knit community. "I also have family members who work at GRHC: one a nurse and one a nursing assistant. I did some clinical rotation as [a] nursing student and had a good experience," said Dharma.
Dharma's positive experiences with Grant Regional's staff continued through both of her labor and deliveries. "All my labor, delivery and postpartum experiences were great!" she said. In Grant Regional's OB department, much care is given to patients prior to labor and delivery, as well as after. Soon-to-be parents can prepare for their upcoming delivery with childbirth and breastfeeding courses, and mothers and babies receive follow-up care in the OB department, as well as with the mother and baby's primary caregiver(s).
The Doll family was exceptionally touched by the emotional support they received from the staff at Grant Regional while they grappled with a new diagnosis shortly after the birth of one of their children.
"During the birth of my last child, she swallowed a lot of fluid," said Dharma. "She was pretty sick. Dr. Huebschman and the staff worked hard to stabilize her to prevent transfer to Madison NICU. Shortly after she was stable, it was noted that she had some strong features of Down syndrome. The staff were very supportive and shared personal experiences on interactions and encounters they have had with individuals with Down syndrome. It was a scary time for our family but staff was very supportive and caring. These experiences are everlasting."
Stories like the Dolls' drive home the difference in care that patients and their families receive at Grant Regional Health Center. Providing excellent medical care is just part of our staff's work. The personal touch given by every staff member is what makes Grant Regional truly different. Now is the time to help us continue to create happy BIRTHdays for future generations to come by clicking on the "Donate Now" button and making a donation to our OB renovation campaign.
BIRTHdays in 2008, 2009, 2012, & 2015
Sadie Retallick of Cassville had her birthday at Grant Regional (then Lancaster Memorial Hospital) 33 years ago. She said it's special to her that she was born at the same hospital that all four of children were born at too! Sadie and her husband Ben got to know Grant Regional's OB department well over the course of those four births. "I had Dr. Erin for all of my deliveries," she said. "Her commitment to us was amazing. She always went above and beyond for each and every pregnancy."
Sadie loved the upgrades to the OB department that she benefited from during her last three deliveries. "We delivered our first born in the 'old' OB department with labor in one room and delivery in another. The other three were in the 'new' OB. So much nicer, especially with the private tubs and bathrooms."
The exceptional care she and her babies experienced over all four of her labor and deliveries is something that Sadie remembers well.
"All four births were entirely different and (during) each and every one we received exceptional care," she said. "Even when baby number three turned into an emergency C-section, Dr. Erin and her staff kept cool, calm and collected. Their care for us afterwards was wonderful. I couldn't imagine being anywhere else and receiving such top-notch care. When baby number four came along and I wanted to VBAC, Erin was so supportive and attentive to every detail, every step of the way."
We at Grant Regional Health Center want to keep improving the labor and delivery experience and outcomes for patients like Sadie, which is why we are kicking off our OB remodeling campaign. Help us continue to create happy BIRTHdays for future generations to come by clicking on the "Donate Now" button and making a donation to our OB renovation campaign. Learn more about the obstetrics renovation.
BIRTHday 11/8/55
Kenneth J Klaas was born at Grant Regional Health Center, called Memorial Hospital at the time, in November 1955—just months after the hospital opened its doors. Kenneth's mother stayed in town to deliver Ken, as she knew the hospital was staffed with well-trained people who, in Ken's words, had a "desire to help people when they seem to be most in need. Good people!"
Ken can recall numerous times through the years that the staff at Grant Regional have been there for him and his family. He considers GRHC to be a huge asset to the community and its surrounding region.
"My mother had told me that I had been born about a month premature," he said. "There was a question at that time about my survival so a priest was called in who administered the sacraments of baptism and confirmation. I believe I received excellent care from the staff at that time, which has allowed me a good life and a chance to tell this story."
We are so thankful for stories like Ken's and want to continue to create happy BIRTHdays for future generations to come.
At Grant Regional Health Center, patients can not only expect excellence of medical care, but the kind of care you receive when the staff are invested in their patient's experiences, in addition to successful outcomes. Help us continue to create happy BIRTHdays for future generations to come by clicking on the "Donate Now" button and making a donation to our OB renovation campaign. Learn more about the obstetrics renovation.

BIRTHdays 11/28/15 & 6/6/18
Karin Burr decided to have her first labor and delivery at Grant Regional Health Center primarily because of her care provider, Dr. Sheirlie Lamantia. Karin wasn't always so sure, and she and her husband, Josh, toured a hospital in Dubuque after finding out Karin might need a C-section due to the placement of the placenta.
"I was so scared of being separated from my baby right after she was born, in case she needed a NICU, that I thought that I should look at another hospital," Karen explained. After lots of thought and deliberation, however, Karin knew that she needed to stay with Grant Regional Health Center.
"I decided that the most important thing was that I trusted the person who would help me deliver my baby. I knew that Dr. Sheirlie would do everything she could to be there with me while I delivered, and I trusted her 100%." The rapport Dr. Lamantia took the time to build with Karin was extremely important to her and is a cornerstone of the excellent care provided at Grant Regional Health Center.
Karin is thankful to this day that she trusted her gut on making the decision about where to have her baby. "I can't imagine having my babies anywhere else," she said. "It was as perfect as it could be. My labor was not at all how I imagined it would be, and yet it could not have gone better. I had read so many labor and delivery stories about having countless (and nameless) people run in and out of your room while you were having a baby, and I hated the sound of that. When it came time to deliver my baby, it was just me, my husband, our nurse Nichole Seippel, and Dr. Lamantia. It was perfect."
The Burrs returned in 2018 to deliver their second baby, but this time Dr. Huebschman was the provider there for the delivery, as Baby Boy Burr decided to come early, completely ignoring Dr. Lamantia's request that he stay put while she was unavailable.
"I will never forget how Dr. Huebschman stood quietly and confidently at the end of the bed while I pushed and pushed," Karin said. "I had labored all during the previous day and night at home and was not prepared to deliver yet (what do you mean it's too late for an epidural?!) but she told me it was time, and that my baby boy was coming. I didn't think I was ready and was feeling like I couldn't do it, but she was completely calm. I don't know if she realized what a huge difference it made that she was so calm and confident as I struggled in pain with self-doubt."
At Grant Regional Health Center, patients can not only expect excellence of medical care, but the kind of care you receive when the staff are invested in their patients' experiences, in addition to successful outcomes. Help us continue to create happy BIRTHdays for future generations to come by clicking on the "Donate Now" button and making a donation to our OB renovation campaign. Learn more about the obstetrics renovation.

Celebrating generations of birthdays
Mary Lou(Lois) Mathison—First baby born at Lancaster Memorial Hospital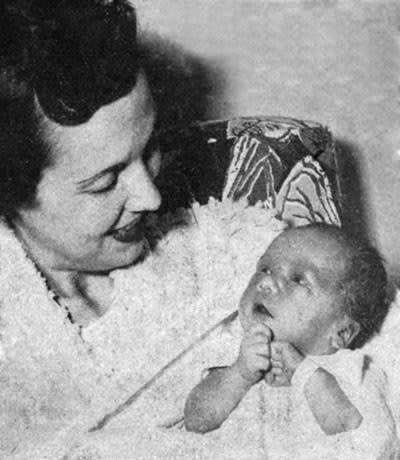 This year marks 65 years that Grant Regional Health Center has been serving the healthcare needs of this region. On September 19, 1955 a brand new hospital opened its doors in Lancaster and the dream of a rural hospital to serve the surrounding communities became a reality. This important anniversary also means a very special birthday coming up for the first baby born at the (then) Lancaster Memorial Hospital. Miss Mary Lou Mathison was then and will forever be known as "Princess" and as the first baby to come into the world at Lancaster's new hospital on September 20, 1955 - she will always be a celebrity in the eyes of our community.
Looking back...
Mary Lou (Pink) Walker, RN recalls being the nurse on duty to help deliver the very first baby born at the hospital. The doctor wasn't able to make it to the hospital on time - so Mary Lou, RN was instrumental in bringing the little girl into the world. Parents DeVerne and Mary Kay (Kay) Mathison were so grateful that they affectionately named their baby after their nurse Mary Lou. The pretty little, dark-haired baby girl weighed 6 pounds, 8 ounces. Newspaper clippings actually listed her birthdate and time incorrectly but history and her official birth certificate shows she came into the world at 12:40 a.m. on September 20, 1955 – just one day after the hospital officially opened. The news spread far and wide about this special birth and the family was grateful for the shower of attention and "mountain of gifts" from nearly every business, firm, and merchant in town. Gifts included clothing, canned baby food, toys, as well as a $25 government bond and $4 savings account – which were considered very generous at the time. She was also given the distinction as head of the Baby Alumni of '55.
Over the years, stories of her peppered the newspapers as she grew up before our eyes. When the hospital celebrated its 10thanniversary – Mary Lou and her parents were there to help commemorate the occasion. She was featured in the newspaper article with her photo and details of her life as a 5thgrader at St. Clements: she enjoyed romping with her dog Mandy and playing with her five sisters and one brother. She reported that she had only been back to the hospital twice - to have her tonsils out and a mild case of pneumonia when she was nine. Mary Lou's family relocated to Stoughton in 1967 and her parents later moved again to Iowa. She worked as a dental hygienist to pay for her bachelor's degree in Interior Design, and has enjoyed a long career planning higher education and health care related facilities.
Today…
65 years later, Mary Lou lives in Philadelphia, PA. Even though her address is no longer Lancaster, she says a part of her heart will always belong to our town. She was gracious enough to reinstate her crown and tell her story. We appreciate her taking us down memory lane as we take a look back to remember and recognize all the families touched by our hospital as we helped bring new lives into the world. 65 years of special deliveries = 12,944 (and counting) bouncing baby boys and girls have been born at our hospital - each one with a unique story of their arrival. Some came early, some waited patiently for Mother Nature to help them along. Some babies may have had a complex delivery - aided by our skilled and compassionate staff of doctors and nurses. Some were born during the day and many were in the middle of the night. Our OB staff is intricately trained and ready to respond at a moment's notice with experience to handle the delicate nature of whatever situation may arise.
Mary Lou says it's wonderful to hear that our local hospital is making the investment and renovating our OB suites. She encourages Lancaster and surrounding communities to join her in supporting this important renovation project. This project means enhanced maternity care, new technology and added features for so many. What a better way to help make the most wonderful time in families' lives - even better, brighter and more comfortable. Mary Lou was happy to be highlighted in our OB Renovation campaign, mostly because "I consider it a tribute to my parents, after all, I had not much to do with it," she says smiling. She adds, "I've had such a wonderful life, and it all started in Lancaster."
At Grant Regional Health Center, patients can not only expect excellence of medical care, but the kind of care you receive when the staff are invested in their patients experiences, in addition to successful outcomes. Help us continue to create happy BIRTHdays for future generations to come by clicking on the "Donate Now" button and making a donation to our OB renovation campaign. Learn more about the Obstetrics renovation.
Nutritional services
Jon's Journey to Success: Focusing on a healthier lifestyle leads to 100% weight loss
Finding my WHY and getting to the HOW.
Jon Jackson, Cassville
"I didn't know it at the time, but 2017 was going to be a year of change. A year that would set the stage for the rest of my life," explained Jon Jackson of Cassville. "At my annual physical in April last year, my doctor punched some numbers in a model (weight, age, cholesterol, blood pressure, etc.) and said, 'You have a 10% chance of dying in the next 10 years.' This was the same thing he said the year before. My reaction was that those seemed like pretty good odds to me. He was shocked and said, 'Oh no, it should be down around 3%.' This stopped me in my tracks and made me take a long hard look at myself. I asked him if I was overweight and needed to see a nutritionist. He said, 'Yes you are obese and yes you should see a nutritionist.'
"A new perspective became crystal clear. Thoughts of my family's history of heart disease flooded my mind. My dad, uncle and brother had heart issues at the young age of 61. I made the decision right then and there—that wasn't going to be me. My 61st birthday was fast approaching and I knew this was an opportunity to change my fate."
His WHY was to live a long, happy, healthy and active life.
Jon enjoyed being active, loved being outdoors, kayaking, hiking and running. He knew if he didn't change something soon he'd have to give those up.
"And so it began…my doctor highly recommended that I start nutrition consultations. Lucky for me, I learned about a local resource close to Cassville. Tracy Ackerman, registered dietitian at Grant Regional Health Center in Lancaster turned out to be exactly what I needed and was a lot closer than other options given to me in Beloit."
"Jon was a very dedicated participant in our program," explained Tracy Ackerman. He took every advantage of the information shared through Healthy Transformations, an individualized eight-week program that helps people lose weight, increase exercise and improve overall health and well-being. He lost 62 pounds from mid-May to mid-August during the eight visits. His weight went from 316 pounds to 254. Jon also felt so strongly about the program that he referred his wife, Jennifer, to the program and a co-worker who also had quite a bit of weight to lose.
Another plus, Jon also got involved in Alliant's worksite wellness initiative. He said his main interest was to motivate others who want to lose weight and serve as a real-life example that anyone can do it and to let them know how much better he felt physically and emotionally. "It has changed my life and was well worth it," smiled Jon.
In addition, Jon motivated a retired co-worker, two sisters, and three friends to lose weight just by serving as an example. "Believe me, if I can do it—you can do it. It only took me about three months to lose the weight I had gained over 30 years. I never realized how much I was eating and how it was adversely affecting me. If I can help 100 people lose 10 pounds, that's 1,000 pounds!"
Many have asked Jon HOW did he stick to it? HOW did he stay motivated? HOW did he lose all that weight? His response…
"Well, I may look like a success story. However, it was not as easy as it looks. I won't dwell on the times I didn't eat healthy…the important thing is like any sports team, if you slip up, don't beat yourself up—you have to shake it off and start over at the basics. Don't let one bad day ruin your goal. Keep your eye on the prize and only look forward! This is a lifestyle not a diet. For me gaining weight was a little like that top drawer where you put everything that you might need some time but doesn't really have a place. Before you know it (30 years in my case), the drawer is full and you can't find anything. I decided to clean out that drawer and start over."
HOW he did it all comes right back to his WHYs. "I did it! I lost 100 pounds since April 2017," Jon reported. "There are so many reasons that support what I did. There are so many benefits of taking the extra stress of being overweight off my body."
Positive benefits from head to toe:
Athlete's foot is gone!
Shoes fit better!
Reduced foot arch pain (plantar fasciitis)!
I can tie my shoes without exhaling first and turning all red in the face!
No more swollen ankles at night (reduced salt)!
Knee pain is gone. Left knee is completely pain-free and right knee pain is down to 1 from 8.
I can wear my wedding ring again after 15 years!
Went from XXXL to XL or L shirts (46 to 38 waist pants)!
Even my kayaking sun hat is too big!
My glasses don't leave creases down the side of my face!
Other important points to mention:
Gone: lower back pain, high blood pressure medicine, sleep machine.
Improved: vision by 20% (prediabetes), self-esteem, not afraid of ID pictures, buy clothes off the rack.
My Goal: Running again, qualify for Boston Marathon this year!
Medical Testing Improvements
Body Mass Index (BMI)
Started @ 37 Obese (320 pounds)
Current @ 26.6 Overweight (220 pounds)
Goal @ 25 Normal (215 pounds)
Total Cholesterol
Low Density Lipoprotein (LDL)
High Density Lipoprotein (HDL)
Triglycerides
Fasting Glucose
Grant Regional's HEALTHY TRANSFORMATIONS PROGRAM
In addition to Jon's drive and motivation to be healthier, it was essential to have the weekly accountability with Tracy's program to keep him going. He had eight individualized consultations over a 12-week period. Tracy calculated his daily caloric goal was to stay within 2,100 to 2,200 calories per day.
"She was so knowledgeable about nutrition and provided helpful insight on calorie counting," he said. "I measured, weighed and googled. It was crucial to log my food daily including everything I ate (also included logging weight, exercise, goals, etc.). During my weight loss, I would write on the log while I ate to make sure I captured everything, and it forced me to eat slower, giving my brain the extra time to catch up with my stomach and feeling full. One of the biggest factors that I learned in weight loss success is practicing portion control. This includes three meals per day with healthy servings of vegetables, fruits, proteins, starches and dairy. She also shared the importance of exercise/stretching, which isn't the end all to weight loss but helps."


My lifestyle change:
Here's what worked for me!
Eat slowly. We need 20 minutes for our brain to catch up with our stomach.
Eat vegetables, fruits and soft foods first to fill up.
I write down everything associated with my eating.
Continued to visit my doctor after weight loss for maintenance of my daily caloric goals.
Weigh in weekly.
Exercise!!!
If you eat snacks, measure your snack first (e.g., 1/4 cup of nuts versus eating from the jar).
Lettuce, lettuce, and more lettuce!
Forget about deep-fried anything!
Go ahead and enjoy that piece of pizza, but write down those calories!
Shop for fresh vegetables and fruits, keep lots of variety on hand and snack on those!
Stay away from processed food.
Each pat of butter is 100 calories…is it really worth it?
Quotes that motivate me!
"You don't drown by falling in the water, you drown by staying there." —Unknown
"Life expectancy would grow by leaps and bounds if green vegetables smelled as good as bacon." —Doug Larson
Today Jon weighs 219 pounds—making his current weight loss just over 100 pounds! He is even upping his goals to achieve a long-term dream of qualifying for the Boston Marathon, starting with a qualifying race in Green Bay on May 21st. Good Luck Jon! We'll be rooting for you!
Originally from Lancaster, Jon and his family were rooted in this small community's history. His dad, Robert Jackson, was a physician in Lancaster in the early 50s. His office was across from Walker's, where Blue Boy Bakery is now. Jon's mother, Margaret (Marmie) Morse, was also born in Lancaster. His grandfather and uncle, Edward Morse Senior and Junior, had a law office on the square where Walker's is now. Jon was born in Lancaster in 1956 and lived there until he moved out of state in about 1961. He moved back to Grant County (to Cassville) in 2010 with his wife, Jennifer, and he now is employed as Environmental and Safety Specialist for Alliant Energy, WPL–Nelson Dewey Generating Station.
Surgical services
Best of care close to home
Bob McKelvey of Lancaster had always heard great things about Grant Regional Health Center—that they provided compassionate, high quality care to our community. But it wasn't until he was on the receiving end of that care that he truly realized what a remarkable hospital we have. "I grew up in Lancaster and after living out of the area for over 40 years, I recently moved back to this community and am enjoying 'retirement,'" he said. "Before, I remember thinking it was best to receive medical care and be totally anonymous. Now I have discovered what a blessing it is to have hospital staff know you and truly care about your well-being. I have experienced it firsthand during my recent hospital stay following knee replacement surgery."

"From pre-op appointments through surgery and recovery, Orthopedic Surgeon Dr. Brad Binsfeld made me feel very comfortable and confident, and I knew I was in good hands," explained Bob. "He answered all of my questions and was so meticulous in how he described my surgery and anticipated outcome. My knee had progressed to a bone-on-bone situation and I had pain daily for far too long. I was ready and excited to move ahead.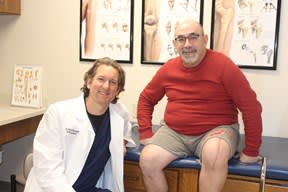 "This is where I tell you how important and how wonderful it is to have all your care in your hometown," said Bob. "No traveling, no long-distance appointments or extended wait times. Once I gave the green light it was ready, set, go. I did my homework too. I knew that this type of surgery had terrific outcomes, rapid recovery and also knew that Dr. Binsfeld had an impeccable reputation. Everyone I talked to or heard talk of him—all said positive remarks. You can tell he is extremely knowledgeable and will do what's best for his patients. I told Dr. Binsfeld I had several important goals: to be able to walk to the library and bowling alley; to be able to golf and to ride my bike."

On December 17, Bob's surgery went just as planned. He passed all the marks, worked hard during his inpatient physical therapy and was discharged to go home with in a few days. "I can't say enough about the excellent care I received before, during and after surgery," said Bob. "I keep pretty busy in my 'retirement' so the hardest part for me was slowing down a bit. I couldn't believe how quickly I was able to get up and move around—without that nagging pain I had for so long. What really made my hospital stay was the staff. From my doctor and nurses to dietary and rehab staff, they all made me feel so well taken care of. It truly is a community of caregivers wrapped around you. If there was any little thing I needed, they were right there. And my room felt more like a hotel than a hospital room. The new expansion of the hospital is as comfortable as it is beautiful!"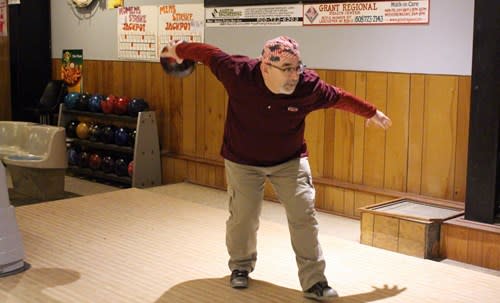 It's been a little over a month and Bob continues physical therapy several times a week and is getting back to his busy self. He is determined to achieve his goals that he mentioned to Dr. Binsfeld and has even pedaled his recumbent bike for over 40 minutes without stopping recently. His bowling team is anxious for his return, which he promises will be very soon. He is able to take the stairs and comments how he hasn't gone up and down that smoothly in quite some time. He is looking forward to enjoying "retirement" even more than before!
Swing-bed services
"A Christmas gift"
"I'm so looking forward to our family's Christmas gathering on December 28 and 29. Thanks to Grant Regional's swing-bed program, I'll be able to make the trip to Madison to see my family—80 members in all!"
Rosie Errthum of Lancaster can definitely be described as a go-getter at the age of 88 years young. She's a mother of 10, enjoys staying active and volunteers regularly in her community. She is always one to help others and takes pride in serving in that role.
But the tables quickly turned when she needed the help of others after suffering a fall in her home on November 12. "I'm very grateful for the excellent care at Grant Regional, my orthopedic surgeon Dr. Brad Binsfeld and the Swing-bed program for helping me recoup so that I could get back home," she said
"My kids describe my fall as a result of me doing the 'moonwalk,'" Rosie smiles as she explained. "It wasn't funny at the time, but we certainly get a chuckle at saying that now." Walking backwards and tripping between the carpet and kitchen flooring caused her to fall and break her hip, fractured at the top of the femur.
"I'm usually the caregiver so this was quite different for me. I cared for my husband who had Alzheimer's and then of course prior to that, cared for my large family," explained Rosie. "I have to say that I was so impressed with our hospital. Dr. Binsfeld, Dr. Eric Slane, Dr. Eric Stader, and all the nursing and therapy staff took such wonderful care of me. I'm so grateful to have exceptional care, so close."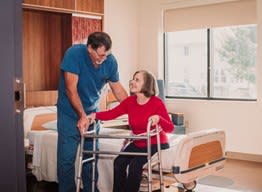 After three days as a hospital inpatient, Rosie's care transitioned to Grant Regional's post-acute care, or better known as swing-bed program. Rosie and her family appreciated that she could remain at the hospital under this extended care option, so not to disrupt her recovery. They felt her recovery was enhanced by staying in the same room with familiar faces. They felt if she would have moved to another facility, it might have caused her to be confused or slowed her progress.
"It wasn't even a thought to go to a nursing home, since this program was available," said Rosie. "I wanted to go home but I knew [and my family knew] that I just wasn't ready quite yet."
Rosie admits her recovery wasn't always easy. "I had to work hard to get up and move around and I didn't always want to. But the staff was very up-front and honest with me and my family. They gave suggestions and advice for the best possible recovery. I was so comfortable during my stay. My room was spacious and beautiful in the new expansion of the hospital. My large family could visit and there were accommodations for my daughters when they stayed overnight with me. I also want to mention that staff included my family in any/all healthcare decisions, and that was very important to me. They were treated like guests and I appreciated that very much."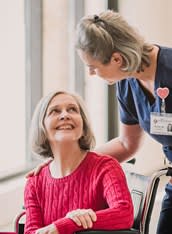 Rosie was able to improve her strength and mobility, and by the time she left on December 3, she was able to walk on her own with the aid of a walker. "I attribute my recovery to the wonderful nursing care complemented by the physical and occupational therapy I received daily while in the swing-bed program," said Rosie. Rosie continues to get stronger each week with ongoing outpatient physical therapy at Grant Regional Health Center, working with the same therapists as during her swing bed stay. Her daughter Peggy also added her appreciation for Louise Nebel, RN case manager, for being so helpful in guiding them through this process.
Rosie remembers a special promise from staff... "They made it clear that they would help me reach my goals and that was to get stronger and be able to return home safely. My two goals that kept me going were to get back to volunteering at the Grant County Thrift Shop and to be able to make the trip to Madison for our two-day Christmas family gathering at the end of the month."
"I want to thank everyone at Grant Regional who took such good care of me and to wish them all a very Merry Christmas. I know that I will be enjoying the greatest gift of all at Christmas: my health and my family."
~Rosie Errthum, Lancaster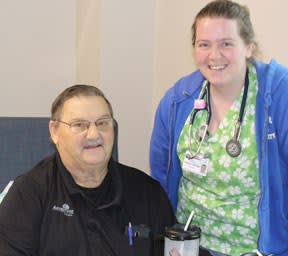 "I'm the type of guy who appreciates some 'good news' in the world," smiled Steve Yoose of Lancaster. And having recently received care through the swing-bed program at Grant Regional Health Cente Steve said, "The exceptional hospital we have in our community is definitely good news—especially to those who might not frequent the hospital or know about the hospital's recent expansion."
"Care this good should not be kept a secret! We are so lucky to have the high-quality, patient care in Lancaster and support for our surrounding communities," explained Steve. "I certainly wouldn't wish illness on anyone but to know that we have excellent care this close is very comforting and reassuring. I know I wouldn't want to be anywhere else in the world when medical care is needed."
"I had back surgery in Dubuque in February and had some complications following surgery. I was pretty down and worried about how I was recovering. We knew I need more time to get stronger and so Grant Regional's swing-bed program was encouraged. Things really turned around when I was transferred to this unique program," explained Steve. "The first night at Grant Regional my son, his wife and four grandchildren were able to visit me. My 3-year-old granddaughter thinks I'm pretty special—so it completely turned my spirits around just being able to spend time with them."
"I felt like I was 'approaching the pearly gates' before I came to Grant Regional, and I think God said, 'Steve the gates aren't quite wide enough yet,'" smiled Steve. His wife Carol added with a wink, "God must have thought his purpose on earth isn't quite done yet—we're not sure what that is—but we're so blessed to have more time."
"This is like the 'Mayo Clinic' of Grant County. I couldn't believe the size and comfort of the patient rooms. So spacious. I felt like I was in a much larger facility. People just have to see it to believe it," said Steve. "When you are going through health problems, you really need to know that staff is there to help. Grant Regional's nursing staff was always right there in 30 seconds or less. All the nurses were compassionate to my situation. It's not easy being a patient, but they made me feel like I was their most important patient. I have to say Scott Murray, RN, and his excellent nursing care made me really stop and think how lucky we are for the excellent facility, but the staff is second to none as well."
"Daily rehab and activities also really helped me to get stronger and feel more confident about returning home safely," said Steve. "Another thing that was absolutely top-notch was the food. It is phenomenal! I felt like I was eating at a supper club! I had mashed potatoes and gravy and roast beef I cut with my spoon. Good home cooking always warms you up and makes you feel at home. Just another thing that really sets Grant Regional apart from other hospitals."
Steve's wife, Carol, was familiar with the swing-bed program, having worked at Grant Regional in the past. "I knew about the program but had no idea how important it was going to be to his recovery. Neither one of us had been in the new expansion since it opened, and we were both amazed at the changes and enhancements. I had known how difficult it was to bring him home after his knee surgery last year, and I was positive that I would need more help following his back surgery this time. I wanted him to be more at ease and comfortable as we transitioned home, and this was the perfect answer," explained Carol. "It really was a lifesaver for me too, having the swing-bed program available right here in Lancaster. We still farm, so the convenience of being able to run home and do chores and keep things going and not have to travel a long distance made all the difference in the world. I was even able to 'check him out' of the hospital for a couple hours and take him to the farm, and he really enjoyed that and made him want to get back there sooner."
Steve is grateful for the swing-bed program which is designed to provide patients with individualized, in-hospital care when they needed extended time to recover and recoup but no longer need acute care. Patients do need to qualify under Medicare and Wisconsin-mandated guidelines. Those who have had at least a three-day acute hospital stay can take advantage of the swing-bed program. Patients who benefit from this program are typically those who need rehabilitation to regain strength and mobility following a stroke, injury or surgery, such as joint replacement, or need IV therapy or complex wound care. Even if patients have surgery at another hospital out of town and aren't quite ready to return home, our swing-bed program allows patients to receive extended care here until they feel stronger.
"Many people might know me as the Santa Claus in Lancaster years ago," said Steve. "And after seeing Christmas through the eyes of a child as I have—I'd say we have a pretty precious GIFT in our community—our local hospital."
John D. Walker family fondly reminisces and proudly supports Grant Regional Health Center
When you hear or speak of the John and Mary Lou Walker family, chances are you think of the legacy of Walker's Clothing and Shoe store in Lancaster. But another long-standing connection you might not know of is the connection of their family to our local hospital—Grant Regional Health Center.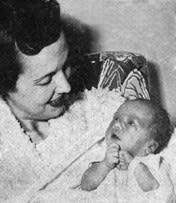 Mary Lou recalls being the nurse on duty to help deliver the very first baby born at the hospital (then Lancaster Memorial Hospital) in 1955. The doctor wasn't able to make it to the hospital on time, so Mary Lou was instrumental in bringing the little girl into the world. The family was so grateful that she was affectionately named after her. She also shared that she remembers taking care of well-known Lulu Williams when she worked for Grant County nurses. (Lulu Williams was the first benefactor to donate funds for our hospital to be built.) All of their six children (Jeff, Dave, Mike, Steve, Sharon and Tom) were born at the Lancaster hospital. There were bumps and bruises and trips to the hospital that occur with six children, but of those the most serious was Mary Lou's bout with cancer in the early 70s. She beat that battle with cancer, and they went on to live a healthy and happy life in Lancaster, spending summers by the river in Prairie du Chien and wintering in Florida.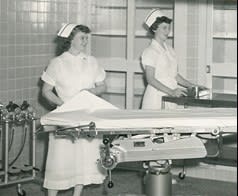 The connection continues on in the family's next generation with many grandchildren pursuing careers in healthcare. Mike's daughter Dr. Alyssa (Walker) Nathan is in residency in North Carolina, and Sharon's daughter Claire is in her first year of medical school to become a doctor. Steve's daughter Liz is attending college at Edgewood College in Madison pursuing a degree in nursing and following in the footsteps of her mother Laurie, grandmother Mary Lou and aunt Sharon Friederick. Tom's son Janek is pursuing his graduate degree in hematology/oncology. Mike's son Scott is also employed in a related field, working as a project manager for EPIC software implementation.
Their interests and accomplishments made John and Mary Lou very proud, to say the least.
The family was saddened to lose John, the patriarch of their family, this past February. John became ill and was hospitalized at Grant Regional. The family wanted to show their appreciation for the care John received and have chosen to support the hospital through a lasting tribute to John with a donation to the important swing-bed program. Their heartfelt donation is a portion from memorials and a portion from the Walker family.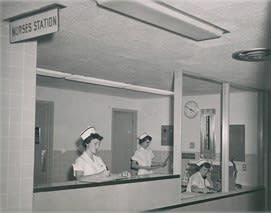 "The swing-bed program is a wonderful asset to our community. Our dad was fortunate to receive five-star care at Grant Regional," said his son Steve. "These services included nursing, physical, respiratory and occupational therapies," explained his daughter Sharon. "With the health concerns Dad had at the time of his admission, we were aware a long-term facility might have to be the next step. We were very pleased that swing-bed was an option for him and he then was able to stay there in a familiar place and received outstanding care at our local hospital. Many times dad said how lucky he was to be able to get such top-notch care five blocks from his home."
"We're forever grateful," said Steve, Sharon and the entire Walker family."
Urological services