Nearly 800,000 strokes occur each year in the United States. Now more than ever, Grant Regional Health Center stands ready to care for those who experience a stroke.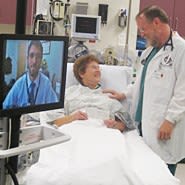 UW Health and Grant Regional Health Center are working together to enhance care for patients in Grant County through the use of the Wisconsin Telestroke Network. Through this network, patients experience the benefit of leading-edge technology. This advancement makes Grant Regional Health Center one of only a few community hospitals in all of Wisconsin that can connect local care with the power of UW Health.
Thanks to this new partnership, patients coming to Grant Regional Health Center's Emergency Department now have immediate access to world-class stroke neurologists at the UW Comprehensive Stroke Center in Madison.
Through its affiliation with UW Health, Grant Regional Health Center is now able to offer quick assessment and response to the medical emergency of stroke. Time is of the essence with stroke, because brain cells are lost at the rate of 1.9 million neurons per minute as a stroke cuts off blood flow. The clot-busting drug tPA can be administered only within 4 1/2 hours of the stroke's onset.
Through a video system, Telestroke enables a UW stroke neurologist to directly interview patients and family members when a stroke is suspected. Computed tomography (CT) scans are also viewable, and a treatment plan recommendation is directly communicated to emergency room physicians and nurses so that care can begin immediately. All in the room can see and hear the stroke neurologist during the Telestroke process.
By providing immediate assistance to suspected stroke patients, emergency room personnel are supported when time is critical. This extra level of stroke-specific knowledge also enhances patient safety and facilitates treatments that lead to better outcomes.
In most cases, Telestroke will allow patients to stay at Grant Regional Health Center. But in more complicated cases, the patient may need to be transferred to Madison for specialized treatment. Telestroke also benefits these patients because the neurologist will have already met and evaluated the patient.
At UW Health, patients who need further treatment will have access to neurosurgeons and interventional neuroradiologists who specialize in less invasive surgery in which catheters are threaded into the brain to remove blood clots.
According to Donna Katen-Bahensky, President and CEO of University of Wisconsin Hospital and Clinics, "Telestroke is an excellent example of technology improving the patient experience. We are excited to add complementary services to the excellent care they provide. We share a common vision of offering the best and latest treatment options."
Grant Regional Health Center made a commitment to providing this exceptional service through several years of planning and securing funding sources. Grant Regional Health Center Foundation's Annual Campaign in 2010 raised over $32,500 to help implement this program. Also, through the Universal Service Fund grant we received $28,780 to be used to increase our current broadband and to purchase a computer specifically for Telestroke and one for interpretive services. And in 2011, Grant Regional Health Center was awarded $3,000 from a Multiplan grant to provide information to local EMS and the general public regarding Telestroke.