Introducing - Grant Regional Health Center's Joint Replacement University! This new program is designed to provide detailed information to those interested in or scheduled for joint replacement. It starts with a patient-focused treatment plan, followed by coordinated care - involving patients and their families every step of the way.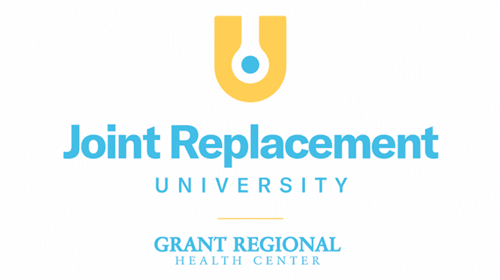 Joint replacements can significantly relieve pain and increase mobility in about 90% of patients. At Grant Regional Health Center our goal is to restore your optimal comfort — by decreasing pain plus increasing mobility and independence, while improving your quality of life. We believe you play an important role in your successful recovery. That's why we involve you in every step of your treatment — from education before your surgery, through surgery, hospitalization, and recovery and beyond.
Attend our free classes to learn more
All patients scheduled for joint replacement at Grant Regional Health Center are encouraged to attend a Joint Replacement University preoperative education session. Patients are encouraged to bring a "coach" to the class such as a spouse, friend or relative. Attendees will hear from our orthopedic team including providers, nurses, physical therapist and other staff to explain how to ensure a successful surgery. These experts will offer suggestions to help at home, what to bring to pre-admission testing, what to expect from the day of surgery until you are discharged to your home or to rehab.
Patients who attend Joint Replacement University are better prepared for surgery. Research shows patients typically:
Have less anxiety.
Are more likely to complete their pre-surgery exercises.
Have fewer, if any, infections.
Leave the hospital sooner.
Use less pain medication.
Have smoother rehabilitation.
Who needs a hip or knee replacement?
Surgeons look at a few basic criteria, including:
Pain and stiffness. Most people who need joint replacement have severe pain that makes it difficult to walk, climb stairs, get up from a chair or carry on with other normal activities. The pain is also chronic, lasting at least six months, according to a spokesman for the American Academy of Orthopedic Surgeons.
Poor quality of life. It's not only pain itself that matters, but how the pain affects your daily life. Do your joint problems limit what you can do? Do they affect your mood?
Bone damage. X-rays and other imaging may show severe joint damage from osteoarthritis or other conditions.
Non-surgical treatment failure. Medication, injections or devices – such as a walker – aren't helping enough.
Your knee is severely swollen or your leg is bowed.
Deciding if surgery is right for you
We encourage patients to try alternative treatments before deciding on joint replacement. These options include oral medications, exercises/physical therapy, and injections into the joint. If, however, you have exhausted all efforts of pain management and are considering joint replacement, our orthopedic team is committed to providing the best solution possible to get you back to doing the things you enjoy.