Dr. Ian Stormont has achieved the highest level of training and experience with the UroLift® System and has been designated a UroLift® Center of Excellence Physician.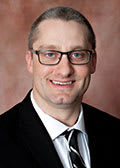 Conditions & Procedures
From urinary issues to kidney stones, patients can encounter a host of conditions that affect their day-to-day lives. Most are treatable, but it's important to identify and understand the symptoms. At Grant Regional Health Center, we provide the most innovative treatments.
NeoTract announces launch of UroLift® Center of Excellence Program recognizing urologists dedicated to optimal treatment experience
NeoTract, Inc., a medical device company focused on addressing unmet needs in urology, provides the UroLift® Center of Excellence program to spotlight urologists dedicated to optimizing the treatment experience for patients treated with the company's UroLift® System. The national program is designed to recognize exemplary care of men suffering from urinary tract symptoms and the achievement of a high level of training and experience with the UroLift® System.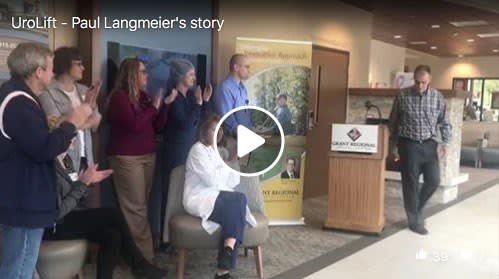 The UroLift® System is a proven technology with four years of published clinical data showing rapid and durable improvement of symptoms due to enlarged prostate," said Dave Amerson, president and CEO of NeoTract. "We are excited to have many urologists around the country with extensive experience treating patients with the UroLift® System, and this program is designed to highlight their commitment to providing the best care possible to their patients.
The UroLift® System permanent implants, delivered during a minimally-invasive procedure, act like window curtain tie-backs to hold the lobes of an enlarged prostate open.
The procedure takes less than one hour and is typically performed using only local anesthetic in a physician's office or ambulatory surgery center, with no cutting, heating, or removal of tissue. Patients recover from the procedure quickly, returning to their normal routines with minimal downtime.
The UroLift® System is a proven treatment that can get men off BPH medications and allow them to avoid major surgery, while preserving sexual function. Long-term clinical data from the LIFT randomized study published in Urologic Clinics of North America showed that, after four years, patients treated with the UroLift® device continue to experience symptom relief with minimal side effects, with few patients requiring an additional procedure for relief. A second randomized clinical trial called BPH6 demonstrated that the minimally invasive UroLift® device compares very well to the reference standard surgery, transurethral resection of the prostate (TURP), with regard to efficacy, and is superior to TURP at preserving sexual function and offering a more rapid recovery.
More than 37 million men in the United States are affected by BPH. Not to be confused with prostate cancer, BPH occurs when the prostate gland that surrounds the male urethra becomes enlarged with advancing age and begins to obstruct the urinary system. Symptoms of BPH often include sleepless nights and urinary problems and can cause loss of productivity, depression and decreased quality of life.
Medication is often the first-line therapy for enlarged prostate, but relief can be inadequate and temporary. Side effects of medication treatment can include sexual dysfunction, dizziness and headaches, prompting many patients to quit using the drugs. For these patients, the classic alternative is surgery that cuts, heats or removes prostate tissue to open the blocked urethra. While current surgical options can be very effective in relieving symptoms, they can also leave patients with permanent side effects such as urinary incontinence or erectile dysfunction. For appointments, please call 608.723.2131.
As a man ages, his prostate typically grows. This growth can restrict the flow of urine and cause bothersome symptoms. It is estimated that more than half of men in their 60's and as many as 90% in their 70's have symptoms of enlarged prostate or Benign Prostatic Hyperplasia (BPH).
Symptoms
Symptoms of BPH can include:
Difficulty starting to urinate
Sudden, recurrent urge to urinate
Dripping or leaking after urination
Interrupted, slow or weak urine stream
Frequent urination, especially at night
Painful pushing or straining to urinate
Inability to empty the bladder completely
Determine your BPH symptoms by filling out this simple form. If your total score indicates Moderate or Severe symptoms, contact Dr. Stormont.
Diagnosis:
Diagnosing BPH early is important because, if left untreated, it can lead to urinary tract infections (UTIs), bladder or kidney damage, or urinary retention. Distinguishing BPH from more serious diseases like prostate cancer is important.
Treatment:
Lifestyle modifications: As physicians, we believe the most conservative course of action is best to try first, unless circumstances warrant a more aggressive approach. There are some simple steps you can take without medication or procedures that may improve your urinary symptoms, including changing bathroom habits, monitoring medications and examining your diet.
Medication: Some medicines ease BPH symptoms by calming the muscles at the prostate to improve urine flow. These are called alpha blockers, and they are the most common medication to treat BPH.
Surgical treatments:

UroLift® System: Minimally invasive procedure that opens the passage. This relieves pressure on the urethra and allows urine to flow. In a way, the implants act like curtain ties, lifting the tissue out of the way. This minimally invasive procedure involves no cutting, heating or removal of prostate tissue. Click here to download the patient brochure.


GreenLight™ Laser Therapy: During this procedure, the prostate tissue blocking your urethra is vaporized. This opens the channel that urine flows through.


Transurethral resection of the prostate (TURP): The prostate tissue blocking the urethra is shaved out to open the channel.


Erectile Dysfunction (ED) is the inability to achieve or sustain an erection for sexual intercourse. An estimated 10 million to 20 million American men have been diagnosed with ED, and an additional 10 million having partial erectile dysfunction. Cases of ED become more prevalent with age, and the majority of those diagnosed are 65 or older. At least half of men older than 50 have some degree of erectile dysfunction.
Penile prosthesis
A penile prosthesis is another treatment option for men with erectile dysfunction. A penile implant (or penile prosthesis) is a medical device that is custom-fit and surgically placed into a penis to produce a natural-looking and natural-feeling erection.
More than 33 million Americans experience some form of urinary incontinence or bladder condition, according to the National Association for Continence. It occurs in men and women of all ages, though chances increase with age.
There are three basic forms of incontinence:
Stress incontinence: Leakage that occurs when physical stress, including sneezing, coughing or athletic activities, puts pressure on the bladder.
Urge incontinence: A sudden need to urinate because the bladder contracts involuntarily, forcing urine out.
Overflow incontinence: The bladder doesn't empty as it should and later leaks urine as a result. This can happen when the urethra is blocked by an enlarged prostate.
Interstim therapy
InterStim Therapy treats urinary retention, (inability to completely empty the bladder) and the symptoms of overactive bladder, including urinary urge incontinence (leakage) and significant symptoms of urgency – frequency. It should be used after you have tried other treatments such as medications and behavioral therapy and they have not worked, or you could not tolerate them.
Interstim is a type of device that sends mild electrical pulses through a small wire that is inserted near your tailbone. This therapy targets the communication between the brain and the nerve that controls the bladder.
For more information on Interstim, visit everyday-freedom.com.
Vasectomy is a surgical procedure for male sterilization or permanent contraception.
Like many conditions that affect the urologic system, female bladder issues can be a sensitive subject. As a result, women wait an average of 6.5 years from the first time they experience symptoms until they obtain a diagnosis for bladder control problem(s) such as:
Female Stress Urinary Incontinence (SUI)
Incontinence
Overactive Bladder
Urinary Tract Infection (UTI)